Practical and innovative support for sport organisations and volunteers: new digital tools coming soon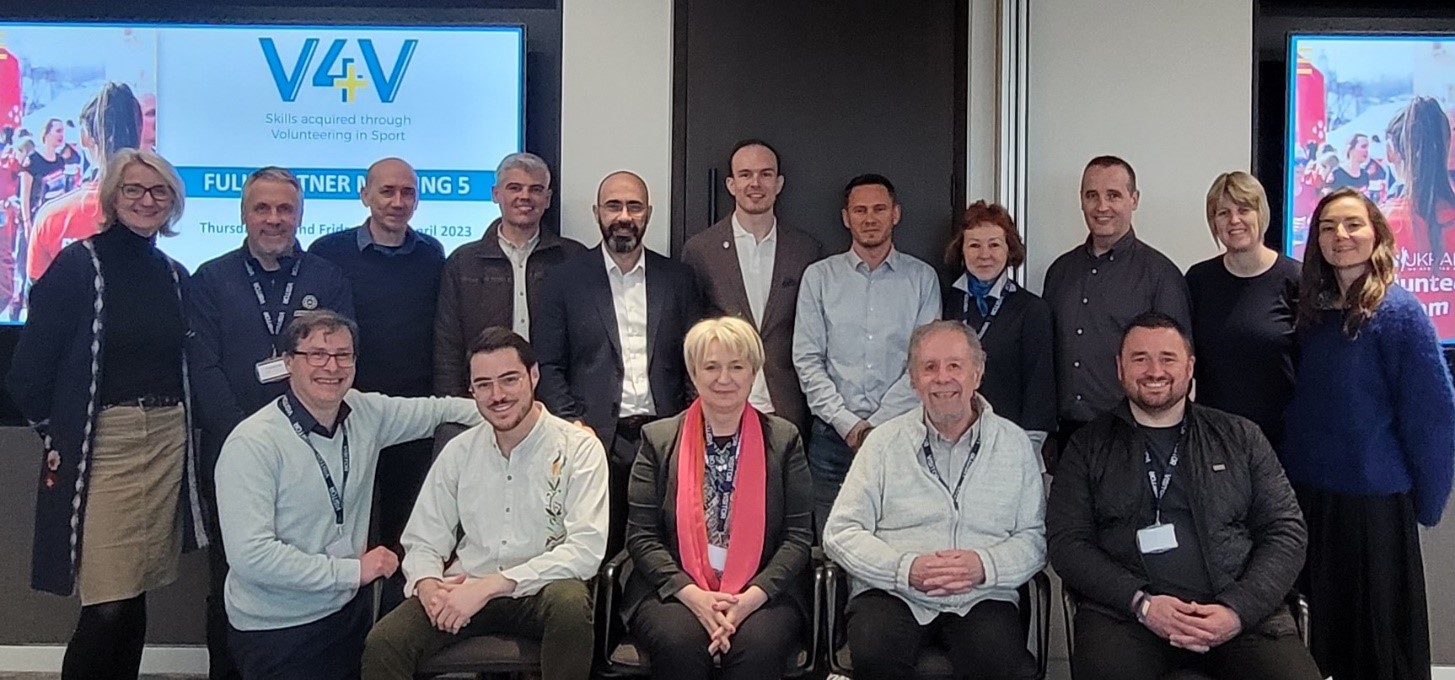 V4V: Skills acquired through volunteering in sport is not just a research project. Its partners are currently building two practical online tools that are customised to the field of sport volunteering. One is designed for sport organisations to self-assess their own effectiveness in engaging and deploying volunteers and provides a rich repository of good practice guides, case studies and learning materials. The other is aimed at the sport volunteers themselves so that they can reflect on the duties/tasks, skills and personal qualities they have gained through their sport volunteering experiences and make these more visible on their CVs and in their job applications.
The fifth Full Partner project meeting on 20-21 April in the City of London, as guests of the UK's Sport and Recreation Alliance, consolidated all the hard work the 13 partners have put into developing the structure and content of these innovative tools, and the partners were delighted to view a live demonstration of the sport organisation online toolkit and discuss further improvements.
Coordinated by EOSE, this two-day event gave the partners a full opportunity to review and approve the final draft of the project's key research report A Comprehensive Mapping of the sport volunteering workforce in Europe, to continue their detailed work on two practical online toolkits and to plan how the project's outputs can go forward after its conclusion in December 2023.
Comprehensive Mapping of the Sport Volunteering Workforce in Europe
Led by EOSE and the Hungarian University of Sports Science (HUSS), this report is probably the first, and certainly the most up-to-date, study of sport volunteering across Europe. Combining literature reviews of the countries and sports represented in V4V, interviews with 57 sport volunteers and a massive survey of 2 723 sport organisations, the report strongly confirms what we have suspected for some time – sport in Europe, especially at the grassroots, simply could not exist without the support of the estimated 12m citizens who freely give their time and energy to the sector.
When professionally designed for publication in June 2023, the Comprehensive Mapping will make fascinating reading for anyone who wants to know more about the size of the volunteer workforce, its demographic profile, existing volunteer roles, national and cultural differences, inclusion and diversity, the impact of COVID-19 on volunteering, incentives and barriers to sport volunteering and the many challenges in terms of recruitment, retention, management and training, and a series of conclusions which point to potential solutions.
Sustaining the project outputs into the future
With the project reaching its conclusion in December 2023, the meeting also considered how V4V's innovative outputs can be sustained and used after the funding period ends. Led by the Portuguese Institute of Sport and Youth (IPDJ) and the International Sport and Culture Association (ISCA), the meeting began to work out the structure, potential recommendations, targeted audiences and key priority actions of a plan to ensure the ongoing dissemination and maintenance of the products and practical activities to embed them into the work of international, European and national sport federations and their huge networks of clubs.
Networking and cultural exchanges
Full partner meetings also offer informal opportunities for colleagues from so many countries to find more about the cities they are visiting and strengthen their transnational relationships, mutual interests and professional networks. This was more than satisfied by a dinner and evening walking tour, led by Martin Lindsey of the Sport and Recreation Alliance, which contrasted the gleaming skyscrapers of London's financial district with historic sites such as the Tower of London, Tower Bridge, the River Thames and its famous South Bank.
Reflections
Reflecting on the two-day event, Aurélien Favre, EOSE Executive Director said, "We are convinced that the Comprehensive Mapping Study will make an important contribution to the body of knowledge around sport volunteering and will be of great value to sport stakeholders at every level and in every country. Work on the practical toolkits is progressing really well. By December, we will have a suite of products which this partnership will feel genuinely proud of and will want the world of sport volunteering to know about. What is perhaps most impressive about this project is the tireless dedication of the partners, their great teamwork, energy, creativity and determination. In so many ways, they exemplify the spirit of the sport volunteers they are working to support."
About V4V
This three-year EU Erasmus+ Sport cooperation partnership aims to provide practical solutions to some key challenges in the world of sport volunteering. There is substantial evidence over many years that volunteers are vital to sport. They give freely of their time and energy, but they also gain much informal learning through their voluntary work. One of V4V's founding principles is that, if there is a way to make these skills and competences visible, this could be a powerful incentive to engaging more volunteers. As appropriate to the ambitions and needs of individual volunteers, making their skills and competences visible could also ease their transition into paid employment, help career progression and begin to address some of the sectoral skill shortages which other research, such as EOSE's ESSA-Sport project has revealed. Another challenge is that sport volunteering is in decline, and it is vital we do more to care for and retain sport volunteers and make better use of what they can contribute.
With the support of 13 high profile expert partners from the European sport sector, V4V aims to provide the following outputs:
A comprehensive mapping of sport volunteer workforce
A digital toolkit for volunteer recruitment, retention and management
An online competency-based self-assessment tool so volunteers can identify and showcase skills and competences gained through volunteering experiences
The first ever European Sport Volunteering Skills Summit
Full list of partners:
European Observatoire of Sport and Employment (EOSE) - France/ EU
International Sport and Culture Association (ISCA) - Denmark / Global
European Volunteer Centre (CEV) - Belgium / EU
World Rugby - Ireland / Global
International Judo Federation Academy Foundation (IJF) - Malta / Global
Romanian Football Federation (FRF) - Romania
Finnish Athletics Federation (SUL) - Finland
Sport and Recreation Alliance (SRA) - United Kingdom
Portuguese Institute of Sport and Youth (IDPJ) - Portugal
Estonian Foundation of Sports Education and Information (FSEI) - Estonia
National Institute for Sport Research (NISR) - Romania
Hungarian University of Sports Science (HUSS) – Hungary
Leeds Beckett University (LBU) - United Kingdom
Web page: www.v4v-sport.eu
Contact: Aurelien Favre – EOSE Executive Director – aurelien.favre@eose.org
Related story: Volunteers are key to the sustainability of grassroots sport: V4V project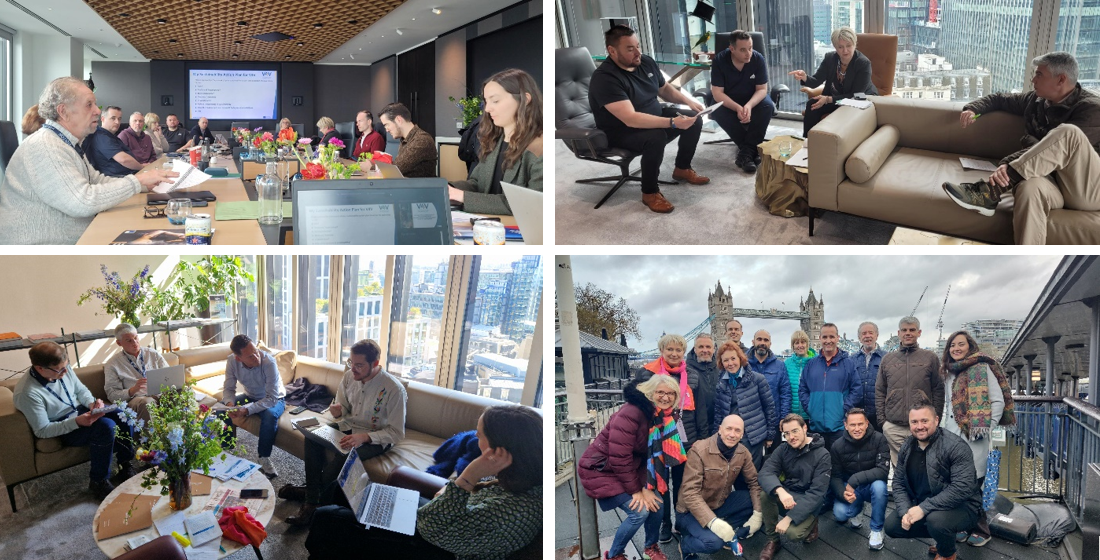 The European Commission's support for the production of this publication does not constitute an endorsement of the contents, which reflect the views only of the authors, and the Commission cannot be held responsible for any use which may be made of the information contained therein.
Posted on 08/05/2023 by EOSE (V4V project lead)