New ISCA online course: Get in the driver's seat to boost your participants' health and wellbeing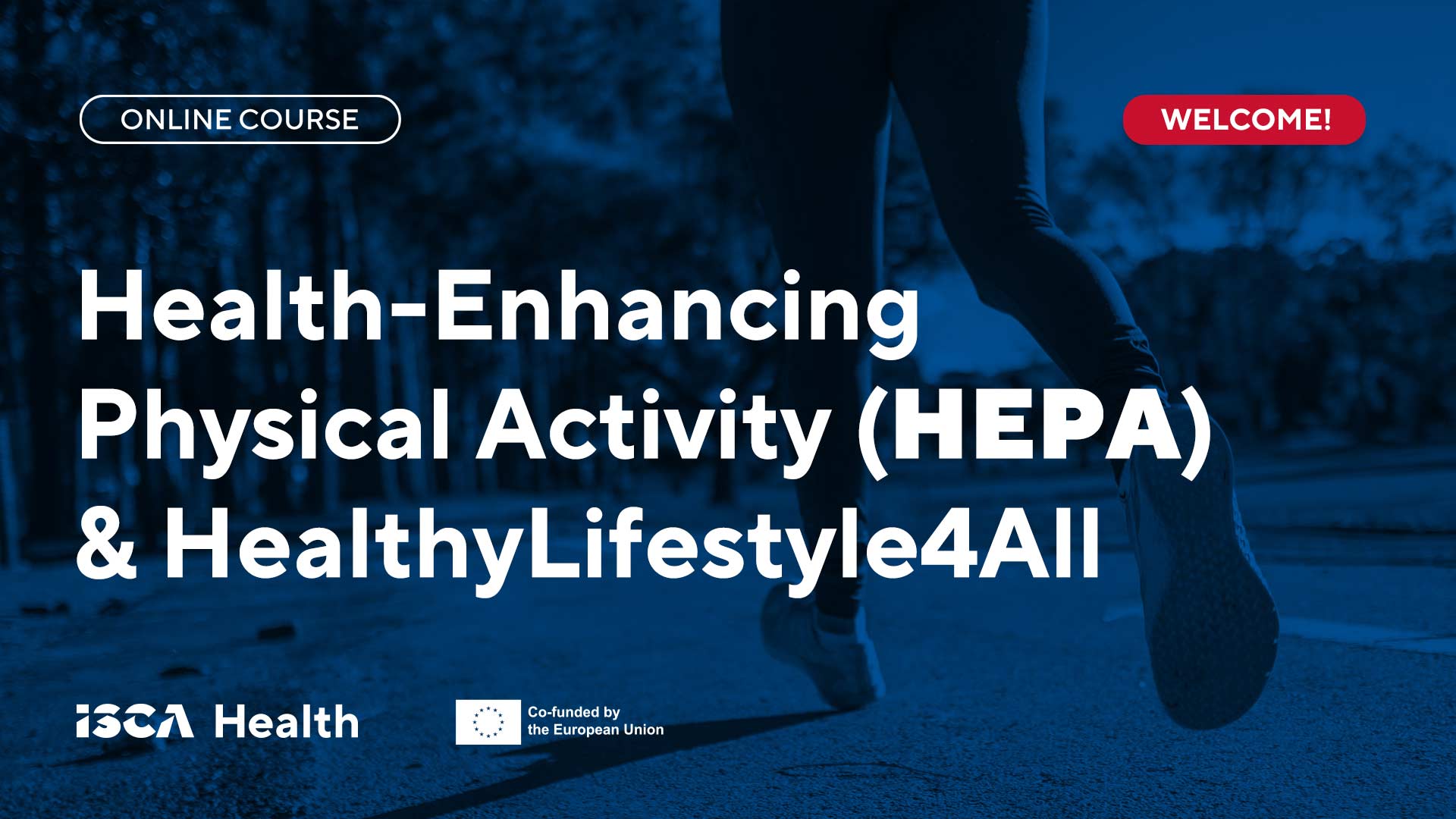 As a recreational sport and physical activity provider you are in the driver's seat to improve people's health and wellbeing. How? Get ready to find out in our new Health-Enhancing Physical Activity (HEPA) & HealthyLifestyle4All online course. We are excited to launch this new online learning opportunity on our platform dedicated to professional development in the grassroots sport and physical activity sector: learn.isca.org.
Through this HEPA & HealthyLifestyle4All course, we aim to equip you with the knowledge and confidence to contribute to reversing the growing prevalence of unhealthy lifestyles in our societies and help people thrive more in their everyday lives. By completing the course, you will discover evidence-based approaches, tools and expert tips that will help you make a positive impact on people's physical and mental health through your physical activity initiatives.
When building this course, we reached out to members of ISCA's HEPA Expert Group, as well as ISCA members and stakeholders, engaging as many organisations, clubs, and experts from the network as possible to share and present their work. We hosted a series of webinars, recorded interviews and made case studies of examples that will inspire and motivate you when challenges arise.
"We promise that this course will challenge you to think differently and lead positive change," ISCA's Online Learning Coordinator Carole Ponchon says.
By completing the HEPA & HealthyLifestyel4All online course, you will:
Understand why health-enhancing physical activity (HEPA) is important for our health and wellbeing.
Learn how to design physical activities that can enhance the wellbeing of your members and participants based on their needs and challenges.
Take the first steps to deliver and measure the impact of health-enhancing physical activities for a range of different target groups and in different settings.
The five modules:
Module 1: Are sport and physical activity keys to unlocking mental health and wellbeing?
Module 2: How to muscle up your game and help tackle the number 1 epidemic in the world
Module 3: How to fit HEPA and physical literacy in your backpack for early-age education
Module 4: Can active, healthy and fit ageing become a reality?
Module 5: How do we ensure that socially disadvantaged groups have access to HEPA?
We created this course with support from an EU Operational Grant in the field of Health, and as part of fulfilling our pledge to support the EU's #HealthyLifestyle4All initiative. You can take the course for free at learn.isca.org.
Discover more at ISCA Health
Our ISCA Health homepage on our website showcases all of the resources we created in 2022 to promote health-enhancing physical activity and introduces you to the group of health experts who contributed to our webinars, in-person seminars and conferences and ISCA HEPA & HealthyLifestyle4All online course.
Quotes from our course introduction:
Professor Adrian Bauman, University of Sydney
"The health benefits of physical activity are well-known for noncommunicable diseases, particularly for cardiovascular disease and diabetes and preventing obesity."
Floor Van Houdt, EU Sport Unit
"The challenge of getting healthy and active Europeans is huge. There's a lot of work to be done."
Expert contributors to the course content:
ISCA HEPA Expert Group
Prof Niamh Murphy, Centre for Health Behaviour Research, Department of Health Sport and Exercise Science, Waterford Institute of Technology, Ireland
Dr Ine De Clerck, Artevelde University of Applied Sciences Ghent, Centre for Innovation and Research in Health & Care, Belgium
Assoc. Prof Gregor Starc, Faculty of Sport, University of Ljubljana, Slovenia
Rose Marie Repond, Bern University of Applied Sciences, BFH · Department of Sport, Switzerland
Paolo Emilio Adami, Medical Manager at World Athletic, Health and Science Department, Italy
Dr Anna Chalkley, Research Fellow, Centre for Physically Active Learning, Western Norway University of Applied Sciences, Norway
Prof Michael Tiemann, Professor of Sport Science and Head of the Health and Social Department at the SRH University of Applied Health Sciences, Germany
Andrea Backovic Jurican, National Institute for Public Health, Slovenia
Experts from our members and broader network
Lone Brink Rasmussen, Consultant, DGI, Denmark
Hanna Christensen, Project Leader, ABC for Mental Health, DGI, Denmark
Dr Aisling McGrath, Assistant Lecturer in Department of Sport and Exercise Science, Ireland
Pia Pauly, Head of the GYMWELT department, DTB, Germany
Heidrun Krämer, Health Sports Officer, DTB, Germany
Dean Dudley, Associate Professor Health and Physical Education, Macquarie University, Australia
Andrew Daly-Smith, Researcher and Reader in Healthy Childhood, Faculty of Health Studies, University of Bradford, UK
Dimitri Vrancken, Researcher Active Healthy Ageing, Artevelde University of Applied Sciences, Belgium
Prof Patricia De Vriendt, Occupational Therapist and Gerontologist, Vrije Universiteit Brussel, Belgium
Zdenka Katkič, President, School of Health Association, Slovenia
Paolo Emilio Adami, Sports Medicine Physician, Medical Manager, World Athletics, Italy
Viv Holt, Head of International Operations, Youth Sport Trust International, UK
Dusan Pjevac, Sport and Health Development Officer, Azur Sport Santé, France
Robert Benyhe, International Project Manager, Hungarian Leisure Sport Association, Hungary
Zakayo Wandoloh, Co-Founder & Community Manager, Right2Score, Belgium
Posted on 13/02/2023 by ISCA