New V4V project tools to support recruitment and retention of sport volunteers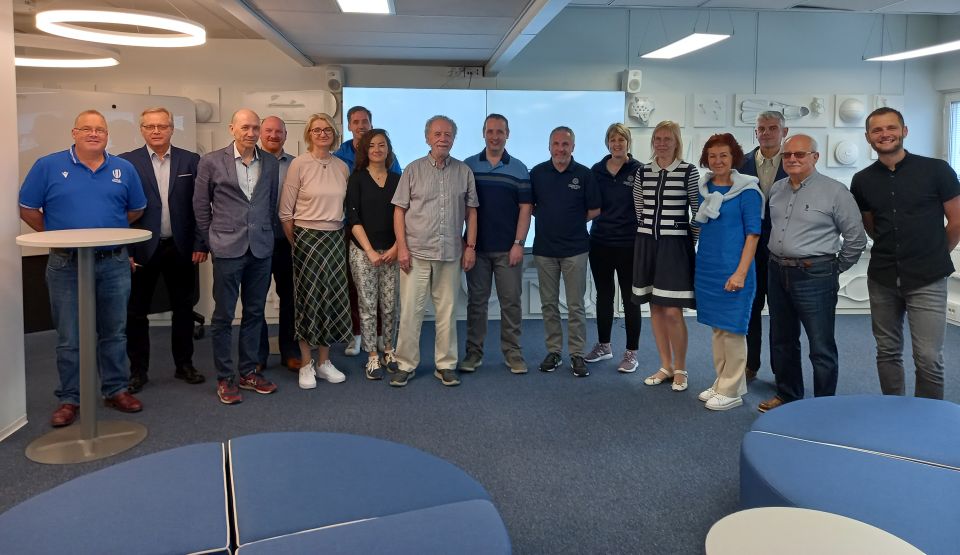 A solid foundation of research to understand the realities and challenges in sport volunteering will inform new toolkits for sport organisations and volunteers. On 20-21 June 2022 the partners of the Erasmus+ supported V4V project gathered in Helsinki, Finland, for the third partner meeting of the project and the first to take place face-to-face.
A key activity of the V4V project is the European Skills Survey on Sport Volunteering which had been open for six weeks before the meeting. The partners were excited to learn about the first findings from the survey and discuss how the results can inform the V4V Mapping Report of the Sport Volunteer Workforce in Europe and two new sport volunteering toolkits.
The survey will remain open until 30th June 2022.
By the date of the meeting just over 2000 responses had been received from sport organisations across Europe, with over 80% coming from sports clubs or federations. Over 37% of respondent organisations have no paid staff showing the survey successfully reached grassroots sport.
36% of respondents stated their number of volunteers had decreased during the period of the Covid-19 pandemic, showing there is a need to attract people back to sport volunteering.
Other key findings of the survey so far confirmed that:
Volunteers provide sport organisations with energy and enthusiasm
Volunteers need to feel valued and part of a team
There are issues of not enough people interested in volunteering roles and low number of applicants
Lack of time and lack of recognition are key barriers to sport volunteering
The survey also confirmed the need for sport organisations to get support with recruitment, management, retention, and training of volunteers – a key objective of the V4V project.
Following a final push to achieve the maximum response rate, the partners look forward to using the survey results, along with results of interviews with volunteers and desk research, to produce a report of new knowledge for the sector on sport volunteering in Europe.
A large part of the meeting in Helsinki was devoted to discussion of an innovative toolkit to facilitate engagement, development and retention of volunteers in sport organisations in Europe. This key output of the V4V project is being led by Leeds Beckett University and will be based on the survey results, desk research, and the expertise of all partners. At the meeting partners discussed the purpose, audience, format and contact of the new toolkit.
A further output of the project is to create a Competency Based Self-Assessment Tool to identify and showcase prior learning, transversal skills and attributes gained through sport volunteering. This was also discussed with valuable contributions from partners helping to shape this new tool.
The partners were very thankful to be able to meet in person after a year of working online in 2021 due to the Covid-19 pandemic, all agreed online formats cannot replicate the interaction and exchange of a face-to-face meeting.
The meeting was ably hosted by the Finnish Athletics Federation who made sure everything ran smoothly and arranged a nice dinner for the partners.
Jock Peggie, Head of Education, Laws and Compliance at World Rugby said: "It was great to be involved in the two-day workshop facilitated by our colleagues at EOSE as we progressed work in the important V4V project. Volunteers are a crucial part of our game, they are the people who will coach, officiate, and care for our current and next generation of players, they run the clubs, schools and rugby organisations that provide the opportunities for play and are the lifeblood of our game. The outcomes of this project will provide tools that all our member unions (not just our European ones) will be able to use to help recruit, retain and re-train volunteers in the present and the future, helping us to grow our game and continue to make it better and safer."
V4V Project webpage: https://projects.eose.org/project/v4v/
Contact: Aurélien Favre - EOSE Executive Director - aurelien.favre@eose.org
Project partners: European Observatoire of Sport and Employment (EOSE) , International Sport and Culture Association (ISCA), European Volunteer Centre (CEV), World Rugby, International Judo Federation Academy Foundation (IJF), Romanian Football Federation (FRF), Finnish Athletics Federation (SUL), Sport and Recreation Alliance (SRA), Portuguese Institute of Sport and Youth (IDPJ), Estonian Foundation of Sports Education and Information (FSEI), National Institute for Sport Research (NISR), University of Physical Education (UPE), Leeds Beckett University (LBU).
Posted on 23/06/2022 by Ben Gittus, EOSE