European Parliament event to spearhead European Action for a HealthyLifestyle4All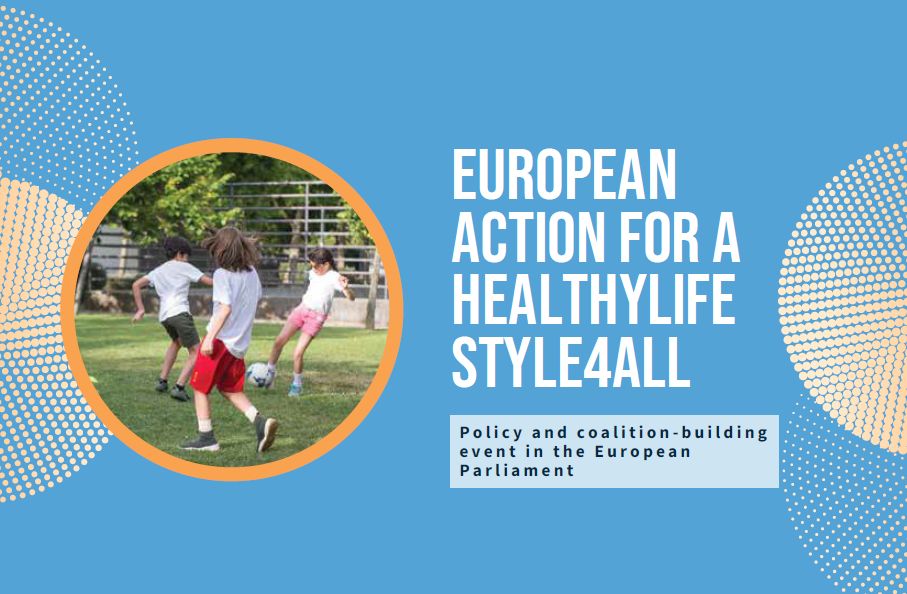 The International Sport and Culture Association (ISCA), JOGG/YHC and Schuttelaar & Partners (S&P), in collaboration with MEP host Tomasz Frankowski (EPP, Poland), are delighted to invite our members, partners and extended network to an exclusive policy and coalition-building event, European Action for a HealthyLifestyle4All, taking place on Monday 27 June 27 from 14:00-16:00 CEST at European Parliament.
Almost two thirds of adults and 1 in 3 children in the WHO European Region are living with overweight or obesity, and these rates are still growing (WHO European Regional Obesity Report 2022). During the Covid-19 pandemic the situation has deteriorated even further, especially for the younger generation, as a result of a spike in physical inactivity, unhealthy food intake, obesogenic environments, mental distress and poor quality of life.
The persistence of such unhealthy lifestyles has led to the surge of non-communicable and chronic diseases across Europe, coming to represent a real global challenge for society and forcing us to look for systemic change.
That's why, on Monday 27 June we are coming together as ISCA, JOGG/YHC and S&P with our supporting partners to voice our call to action to make a transition to healthier lifestyles possible for all Europeans and, in collaboration with civil society, policymakers and the industry, start a conversation about the importance of changing the environment in such a way that it enables citizens to make healthier choices and become more active.
"The idea to have a policy-building coalition event in the European Parliament to promote healthy lifestyles is excellent," says Tomasz Frankowski, Rapporteur of CULT Committee, EPP, Poland.
"I would like to offer my full support to this initiative. It perfectly fits with my draft sport report for the European Parliament, where I underline the importance of cross-sector collaboration of all stakeholders and the need to support European campaigns such as HealthyLifestyle4All."
Register here for this special event and help us move towards a society in which healthy choices become the easier choices!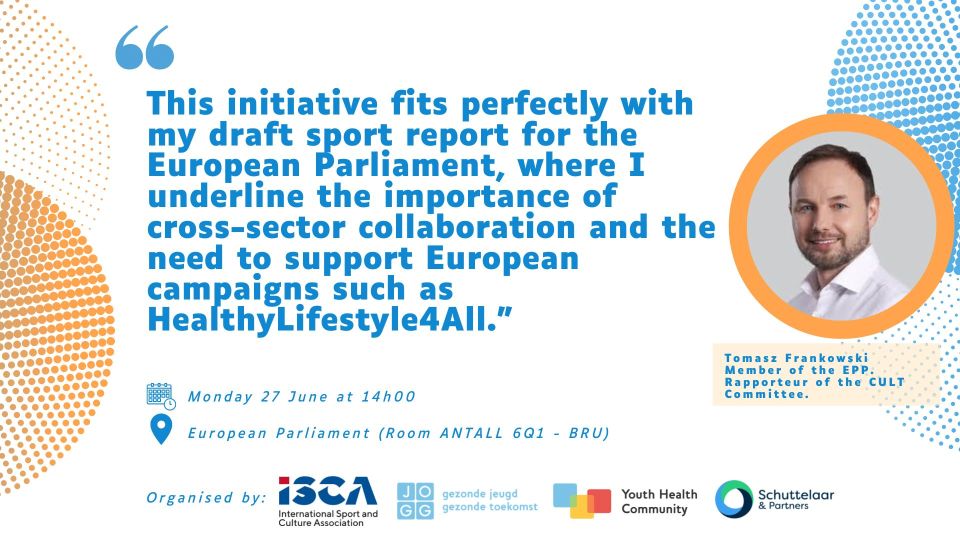 Posted on 09/06/2022 by ISCA, JOGG, Schuttelaar & Partners