CHANGE resources now available to enhance skills in sport for development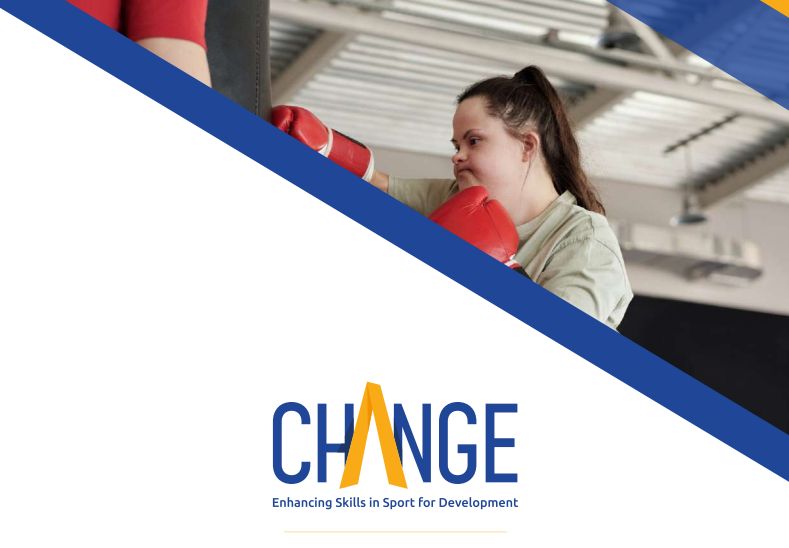 Following the three-year CHANGE project, which focused on skills and workforce issues in sport for development, the CHANGE partners are delighted to announce the final outputs from this innovative project are now live and available to the entire sport sector. CHANGE was based on the principle that sport has huge potential to change society and change people but that to do so it needs a workforce of people with the right skills and competences, supported by a fit-for-purpose programme of education, training and professional development.
CHANGE was funded by the Erasmus+ Sport programme of the EU and concluded in December 2021. It followed the EOSE "7 Step Model" Lifelong Learning Strategy as the methodology to undertake a systematic exploration of employment, education and skills in the sport for development sector, and produce a series of outputs which will be valuable to all stakeholders working in sport for development around the world. In particular those involved in education and training of sport for development practitioners will find the outputs an invaluable resource.
Implementing the 7-Step Model within the CHANGE project has united the worlds of employment and education and builds on the expertise of many experienced sport for development strategic thinkers, practitioners, and academic researchers and educators to ensure that education and training provision is fit-for-purpose and consistent with the needs of the field.
The project adopted a generic approach to sport for development. identifying all the main features of sport for development, regardless of the sport being used or the wider development goals in mind, (for example, empowerment and gender equality, conflict resolution, etc.) and highlighted all of the functions competent coordinators and activators should be able to carry out to achieve good practice outcomes.
The first phase of the project was to conduct desk and primary research into characteristics and tendencies in sport for development, this resulted in the Research Report and Occupational Map for sport for development in Europe.
The CHANGE partners then researched the roles of coordinator and activator in greater detail and produced Occupational Descriptors for each occupation.
The next stage of the project was to develop the Functional Map outlining all of the main functions coordinators and activators must be able to carry out to be competent in their job roles. This was developed to a greater level of detail to produce Occupational Standards. These standards take each of the functions in the functional map and add performance criteria which will enable practitioner's performance to be evaluated (either by themselves or by colleagues) to decide whether they are implementing good practice and to identify any training needs.
Next, the project developed a Training Handbook containing a Framework of Attributes, Skills and Knowledge (ASK) and 25 Sample Module Outlines with learning outcomes based on the Occupational Standards. This Handbook also includes advice to organisations wishing to develop education to support the competence-based development of coordinators and activators.
Finally, the project created an Implementation and Sustainability Plan to ensure all the other project outputs are implemented going forward.
With the publication of these documents the CHANGE partners have supported the sector to 'Build capacity in the European sport workforce to develop the skills to tackle social issues and enable the effective use of sport for social and human development.'
The final outputs of the CHANGE project are as follows:
• Research Report and Occupational Map for sport for development in Europe
• Occupational Descriptors for sport for development positions in Europe
• Functional Map of sport for development in Europe (produced in 6 languages)
• Competence Framework of Occupational Standards for Sport for Development in Europe: Good Practice Guidelines for Practitioners
• Training Handbook for sport for development in Europe: Resources for Upskilling the Workforce
• Implementation and Sustainability Plan for sport for development in Europe
Download your copy and take a look now!
Ste Robson, Course Director – Sport Development from CHANGE partner Leeds Beckett University said:
Leeds Beckett University was pleased to take part in the CHANGE project and work with the other expert partners to explore workforce issues in sport for development. We are confident that the final outputs will be a valuable resource for the sector and play a key role in developing the skills and competences of the sport for development workforce. We look forward to working with partners in the sport for development sector to use the CHANGE outputs to develop the workforce.
Kate Roberts, Regional Workforce Lead from CHANGE partner StreetGames said:
StreetGames were delighted be part of a fantastic group of expert partners working on the CHANGE project over the last two years. We believe the final outputs will be an instrumental factor in supporting the development of the sport for development workforce and we look forward to embedding these resources within our work at StreetGames to support our incredible network of locally trusted organisations.
Full list of CHANGE partners: European Observatoire of Sport and Employment (EOSE); International Sport and Culture Association (ISCA); University of Cassino and Southern Lazio; Leeds Beckett University; General Secretariat for Sports; Greece, Italian Sport for All Association (USIP); Sport Union of Slovenia; StreetGames; Women Win.
Contact - Ben GITTUS – EOSE Director of Standards – ben.gittus@eose.org
Posted on 03/03/2022 by Ben Gittus, EOSE