New Executive Committee, new strategy and more members confirmed at ISCA's General Assembly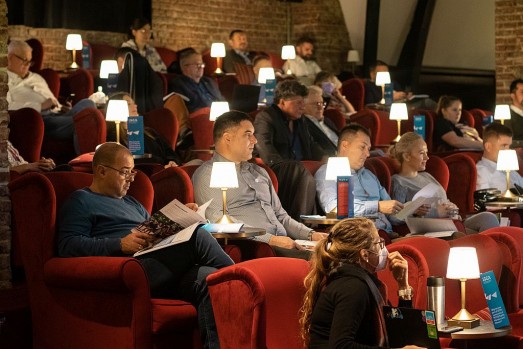 After the successful MOVE Congress 2021, ISCA members gathered for the biennial General Assembly on 20 November to make some key decisions for the future of ISCA. Chaired by external expert Philippe de Witte and ISCA Finance Manager Elena Garcia Morales, the General Assembly took some major decisions based on the prepared materials in the Delegate File.
As the democratic foundation of the organisation, the General Assembly delegates, members from across the world, elected the new ISCA Executive Committee for the next two years, as follows:
President:
Mr Mogens Kirkeby (Nominated by DGI, Denmark)
Vice Presidents:
Ms Maria Luiza Souza Dias (Nominated by SESC – Serviço Social do Comércio, Brazil)
Ms Helen Vost, (Nominated by Youth Sport Trust International, UK) – new
Executive Committee members:
Ms Liliana Ortiz De La Cruz (Nominated by Fundación Pro Deporte y Recreaction para todos, Colombia)
Ms Daniela Conti (Nominated by UISP, Italy) – new
Prof Dr Michael Tiemann (Nominated by German Gymnastics Federations, DTB, Germany)
Mr Patrice Roder (Nominated by UFOLEP, France) – new
Mr Jakub Kalinowski (Nominated by V4SPORT Foundation, Poland)
ISCA is working on the basis of 4-year strategies, and the General Assembly discussed and adopted a new strategy for the years 2022-2025: The strategy emphasises ISCA's drive to succeed as a member-based umbrella, and prioritises digital development, convening power, and partnerships as ISCA's strategic enablers. The MOVE Congress was adopted as a stand-alone operational pillar, complementing ISCA Projects, the NowWeMOVE Campaign, and Advocacy as the key ISCA intervention areas. (More information on pages 10-17 of the Delegate File).
"ISCA is its members – its members are ISCA" is a mantra often heard in ISCA circles. 27 new members were formally adopted by the General Assembly, and welcomed to the network of global grassroots sport promoters.
The General Assembly also reviewed and adopted a new membership offer and fee structure, reports from the continental chairs, as well as budgets and accounts, to name just a few. Full information on all these elements can be found in the abovementioned Delegate File. The minutes are available here and below for further information.
Photos: Marie Oleinik and Laura-Maria Tiidla, ISCA