Active seminar adds Amsterdam inspiration to Placemaking for Active Recreation Kit development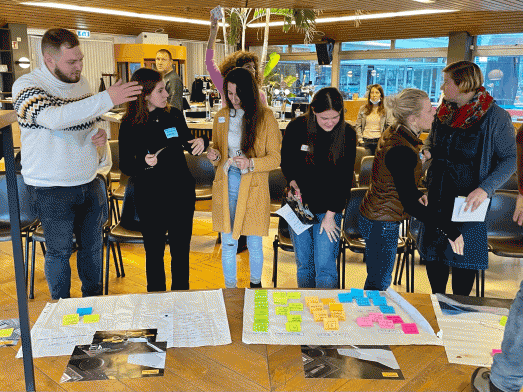 After wrapping up the MOVE Congress 2021 in Brussels, ISCA's Laska Nenova and Monika Resetar jumped over to Amsterdam to join an in-person training seminar for the Placemaking for Active Recreation Kit project (PARK). Placemaking Europe's Anna Bradley, who also presented the project at the MOVE Congress, shares more on this active and interactive seminar.
Placemaking Europe welcomed professionals working on physical activity and city design at the training on 24-25 November. It was a cross-pollinating event that started a conversation about how we can work together to make cities more conducive to physical activity, something we are working on as part of the P.A.R.K. project funded by Erasmus+.
On the first day, we listened to presentations by Vivian Doumpa, Ramon Marrades and Anna Louise Bradley about the human-scale street design, how short-term interventions can become long-term change, and finally about the potential of placemaking for urban physical activity. Then in groups, we played The Place Game by Project for Public Spaces and analysed the public space around the Eye Filmmuseum.
On the second day we had our bike tour where we first visited Boogieland [Kick] Boxing Club. Here, Jens van Dongen and Isabel Kooij told their inspiring story about how they started from a guerrilla action of placing punching bags in public spaces to a programme supported by the municipality of Amsterdam and making boxing accessible to all citizens specifically to support mental and physical health inclusively. After this stop, we then visited architect Sasa Radenovic in Westerpark. He shared with us the story of Aldo van Eyck's playgrounds and showed how a city can be a space for playful physical activity, inclusive of different age groups.
We saw lively conversations and we are very happy that the training was an opportunity to share experiences and make connections. We will work on the future of physical activity in cities and on creating feasible solutions together with our project partners: BG Be Active, International Sport and Culture Association, MOVE, Power Jump - Bulgaria, DEPORTE PARA LA EDUCACIÓN Y LA SALUD and Sport for Education and Health (DES).
Let's keep the conversation going!
Find out more about the project here