MOVE Congress 2021 opens in Brussels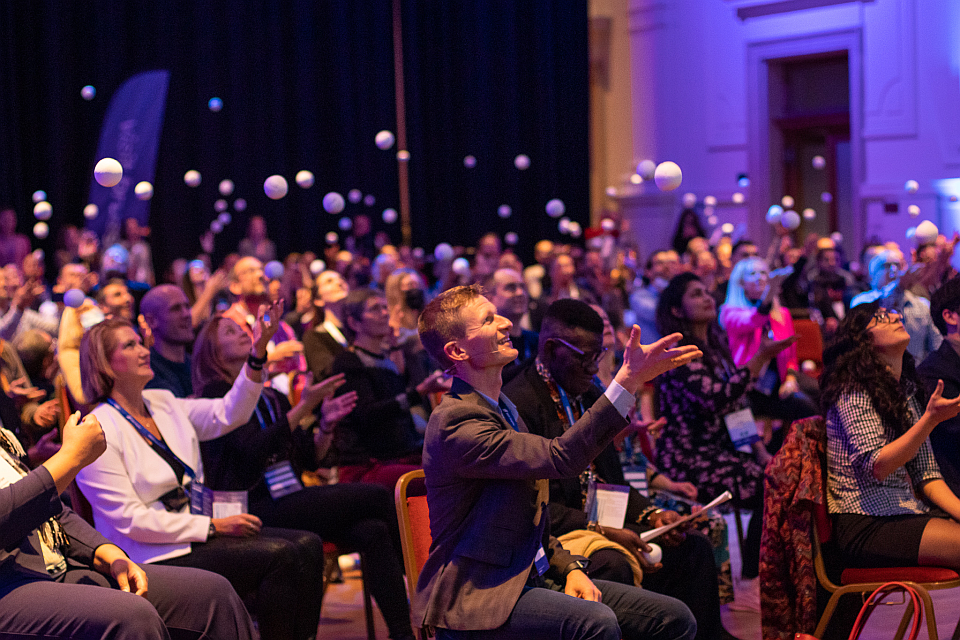 After two years of meeting via computer and mobile screens across countries and continents, 300 physical activity promoters from 40 countries reconnected in person on 17 November at the MOVE Congress 2021 in Brussels. The opening of the MOVE Congress at Tour & Taxis kicked off two days of active networking and expert-led presentations, panels and workshops, with the first full-day programme starting on 18 November at 9:00 CET. The plenary session will be live streamed here on ISCA's Facebook page.
ISCA President Mogens Kirkeby welcomed the MOVE Congress participants to gather again after two difficult years, underlining how vital connecting with people is to our work.
"The pandemic caused limitations for people, societies and also our sector. It prevented people from being together and being social. However, the fundamental element of sport and physical activity is being together and being social," he said.
"At the MOVE Congress we will be putting fuel into the tank of inspiration and motivation."
The curtains opened to local children's choir Singing Molenbeek, who set the scene for the evening with a Serbian song called 'Ajde jano' and followed their multilingual journey during the opening and ISCA awards ceremony with songs in Italian-Albanian and Spanish and stunning musical instrument mastery.
Inspirational keynotes followed from Gonzalo Vargas Llosa, the EU Representative of IRTS partner UNHCR, and ISCA Award nominee, advocate and change-maker Khalida Popal, who put the spotlight on how community and refugee-led initiatives can make a significant difference to the experiences of refugees and migrants.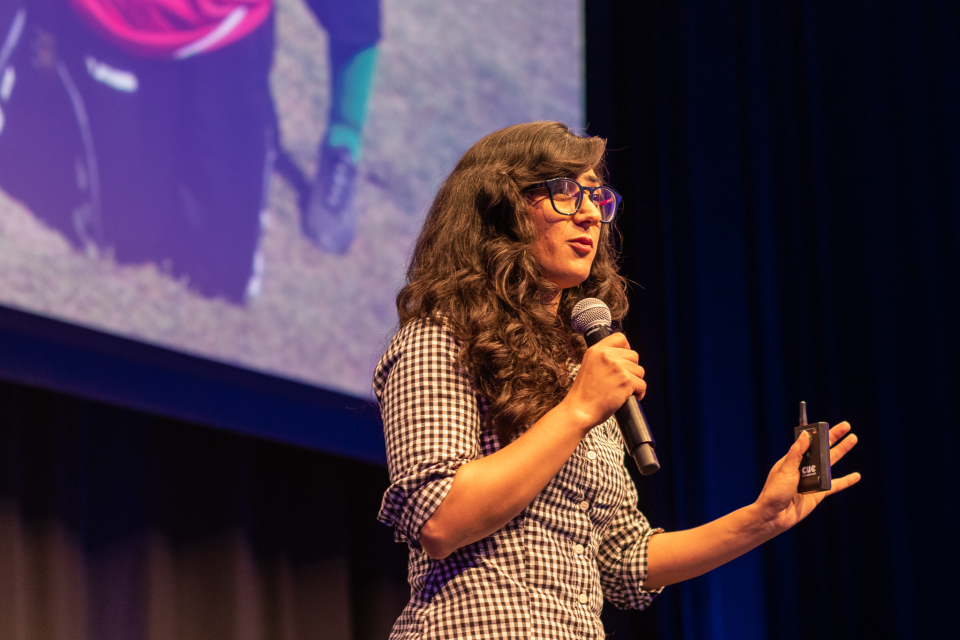 Becoming a voice for the voiceless
Khalida Popal's powerful story of having founded the Afghan women's national football team, to being forced to flee her country and then, most recently, having helped other Afghan women and girls evacuate to Australia and the UK, painted both a sobering and touching picture of the devastating reality of being a refugee and fighting for the rights of women and girls in Afghanistan.
"I was told that as a girl I had to stay home and cook. And I said I'm not going to do that. Society was choosing for me, but I wanted to choose for myself… We were told football is not for women and not for our culture and our history. So I said we'll make the culture and we'll make the history," Popal said, adding that through her own heart-breaking journey she was determined to speak out and empower people in similar situations to her own.
"I have one purpose in life and that is to be the voice for voiceless people or the people whose voices are taken from them."
Four Integration of Refugees Through Sport change-makers receive ISCA Awards
At the MOVE Congress 2021 we are celebrating inclusion and diversity, with the most diverse speaker line-up ever taking to the stage this week. And, with support from the European Commission, we are highlighting exceptional work being done to include and empower refugees and migrants through sport. That's why part two of the opening was dedicated to the ISCA Awards recognising best practices and role models in Integration of Refugees Through Sport (IRTS).
"I am particularly pleased to take part in the first Integration of Refugees Through Sport Awards ceremony," said Gonzalo Vargas Llosa, who returned to the stage after his keynote to open the awards ceremony with ISCA Secretary General Jacob Schouenborg. "I have witnessed an extraordinary effect of sport on the people UNHCR serves. That's why this event is important to me."
Vargas Llosa added in his on-stage conversation with Schouenborg that "the importance of these types of awards and initiatives is that they are a powerful way of countering the negative narrative that [politicians use] to portray refugees as a burden."
Belgian organisation Run Free won the IRTS Cross-Sector Partnership Award, German initiative JUNO – a voice for refugee women received the Integration of Women and Girl Refugees through Sport Award, the French branch of the Chilean initiative Futbol Más was awarded for its IRTS Innovation during Covid-19 and Special Olympics' Advisor for Unified with Refugees Gerald Mballe won the people's choice IRTS Role Model award.
ISCA Awards jury member Alice Barbe, co-founder of SINGA in France, congratulated all 12 nominees for achieving such great impact with their initiatives.
"Inclusion means creating a better future and that's exactly what the nominees are doing with their work."
Read more about the award winners here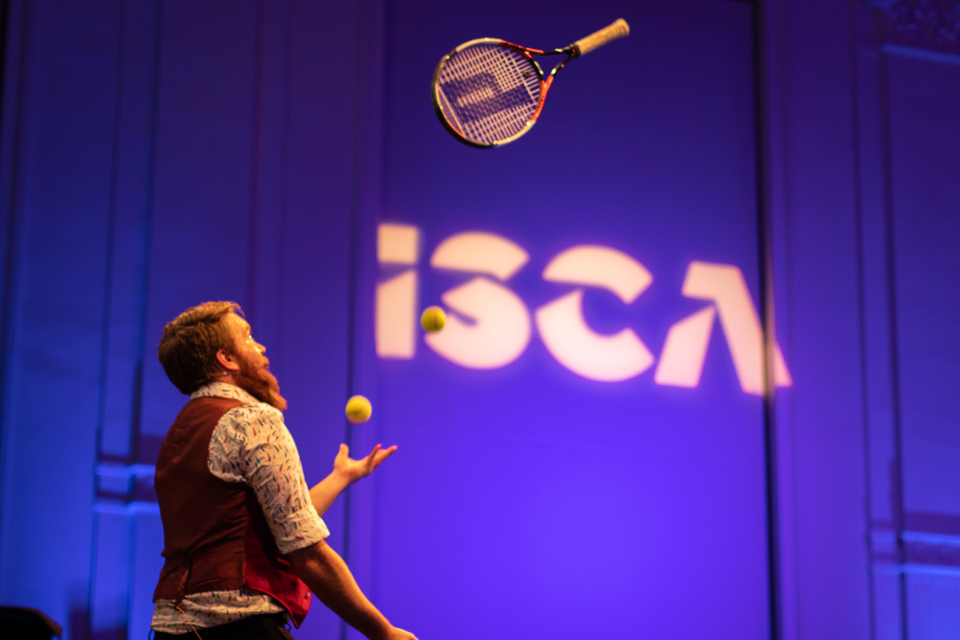 NowWeJuggle!
Of course, at the MOVE Congress there is always a good excuse to MOVE! And this action-packed opening also had some active moments in store.
Now, what was that on our seats in the Ticket Window Hall auditorium? All was revealed when professional juggler Will Borrell from Ecole de Cirque de Bruxelles entered the stage – one, two, three, SEVEN juggling balls? A cricket bat, football and tennis racquet? Everything is possible, he told us – and if you drop one, you just RESTART.
Borrell guided the audience through some quick juggling drills, adding a degree of difficulty at a time before 200 juggling balls were flying in the air.
We're ready for another day of one of the world's most active conferences tomorrow.
Posted on 17/11/2021 by Rachel Payne, ISCA