ISCA joins European and major international sports bodies to launch HealthyLifestyle4All pledge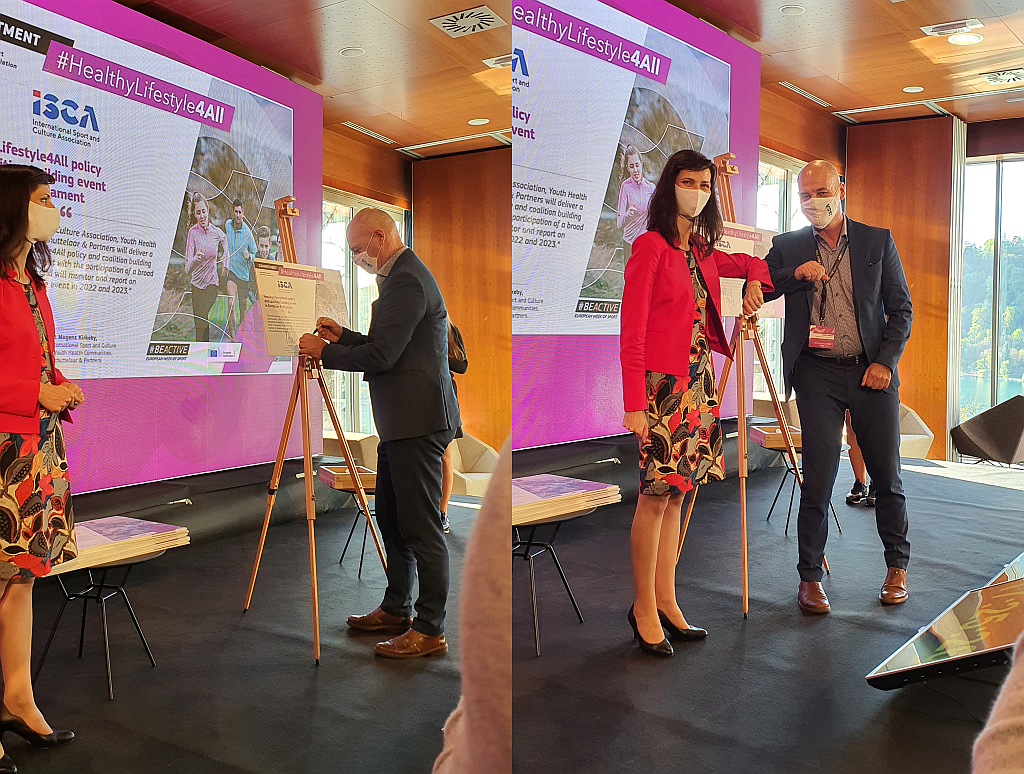 Today ISCA is in Bled, Slovenia, to join international and European sports bodies in launching the European Commission's new HealthyLifestyle4All initiative prior to the official opening of the European Week of Sport 2021. More than 15 leading organisations in the sports movement will co-sign pledges to deliver collaborative actions and monitor their results.
The European Commissioner for Innovation, Research, Culture, Education, Youth and Sport, Mariya Gabriel, officially launched the initiative at a full-day event hosted by the Slovenian Presidency on 23 September from 15:00-18:00.
The HealthyLifestyle4All signature ceremony took place from 17:05-17:30 and ISCA has submitted a joint pledge with the Youth Health Community, JOGG and Schuttelaar & Partners to organise a policy building event event at European Parliament to gather stakeholder engagement for the new initiative.
The pledge, presented in support of the collaborative theme 'Teaming up for a holistic approach to food, health, well-being and sport', proposes that ISCA will:
Work with pledge partners Youth Health Community, JOGG and Schuttelaar & Partners to deliver a dedicated HealthyLifestyle4All policy and coalition building event in the European Parliament as soon as Covid-19 restrictions allow.
Invite a broad section of stakeholders from across sectors to partner and contribute to the event and commit to joining forces for healthy lifestyle policy collaboration in the next two years.
Monitor and report on the commitments from the event during 2022 and 2023.
Facilitate that MEPs, European Commission DG representatives and key European stakeholders for healthy lifestyle promotion discuss policy opportunities and commit towards collaboration towards these solutions in a two-year time frame.
Together with Youth Health Communities, JOGG and Schuttelaar & Partners, launch our own healthy lifestyle commitments.
ISCA President Mogens Kirkeby and Head of Membership and Campaigns Laska Nenova are in Bled for the launch of the HealthyLifestyle4All initiative and the official opening of this year's European Week of Sport.
The HealthyLifestyle4All initiative is supported by:
International Sport Bodies and Partners
Fédération Internationale de Football Association (FIFA), International Olympic Committee (IOC), International Paralympic Committee (IPC), International School Sport Federation (ISF), International Sport and Culture Association (ISCA), World Anti-Doping Agency (WADA), World Health Organisation (WHO)
European Sport Movement
EU Athletes, EuropeActive, European Olympic Committees (EOC), European University Sports Association (EUSA), European Volleyball Confederation (CEV), European Non-Governmental Sports Organisation (ENGSO), European Non-Governmental Sports Organisation Youth (ENGSO Youth), Federation of the European Sporting Goods Industry (FESI), Union of European Football Associations (UEFA)
More news about the event in Brussels coming soon – so stay tuned!
Watch the launch of the event here
Photos: European Commission and Laska Nenova, ISCA
Posted on 23/09/2021 by ISCA