Only 1 week to go until the big day! Have you found your mile yet?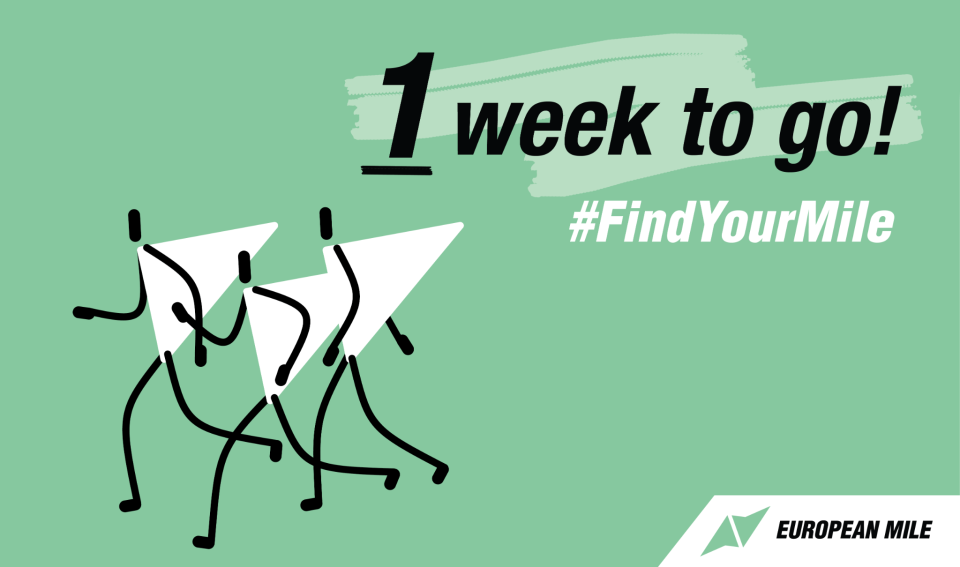 Saturday 5 June is the main celebration day of the European Mile! Many events will be taking place all over Europe on the day – find one near you here. Or join us for a special online event at 11:00 CEST where we invite people across the continent to take a sightseeing tour together.
#FindYourMove & #FindYourMile
European Mile events will be happening all over Europe on 5 June and throughout 2021. It's not too late to find an event in your surroundings and join the celebration. You can participate by:
Follow our Facebook event, for current updates and more information!
More about the live event
Join our LIVE event on 5 June 11:00 a.m. CEST where you can connect with people all over Europe wherever you are. Take the event outside with you and follow the journey with our fitness instructor. We want to see as many of you running, walking, rolling, hiking and being united by the power of moving! Don't forget to donate all of the miles you collect to The Daily Mile Foundation!
This flagship European mile event is being organised by:
V4Sport Foundation (NowWeMOVE National Coordinator for Poland)
International Sport and Culture Association (ISCA)
It is also part of the MOVE Week Gym, which is a series of online live movement sessions hosted by MOVE Agents from all over the world during MOVE Week and coordinated by ISCA. The week is full of training sessions with a big variety of interesting physical activities which you can join for free.
What is the European Mile?
The European Mile is an event with the goal of celebrating movement and encouraging engaging or reengaging in activity in spite of Covid-19 lockdowns and restrictions. The idea is to collect miles by running, walking, or rolling, and to donate them to The Daily Mile Foundation. The European Mile measures 1.6km and it was chosen as an easy to achieve distance for almost anyone!
Donate your miles here
Posted on 29/05/2021 by ISCA