5 reasons why you should celebrate No Elevators Day this April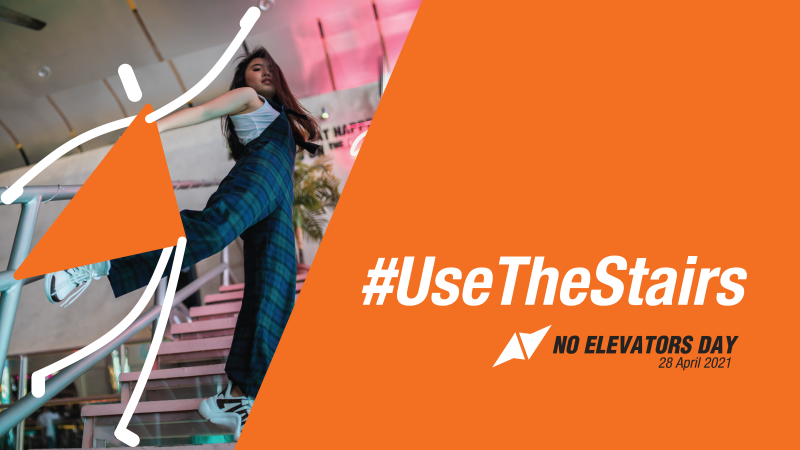 On 28 April we're celebrating the 7th No Elevators Day – a day encouraging people all around the world to use the stairs instead of elevators or escalators. We invite you to #UseTheStairs to climb towards a healthier lifestyle and share your climbs and workouts on social media to be part of our growing active community of MOVE Agents.
Small changes in your daily routine, like choosing to go to work by bicycle or walking instead of taking a car or public transport – or like taking the stairs instead of an elevator – can make big differences.
#UseTheStairs
Switching from elevators to stairs makes physical activity something you don't have to plan or prepare for. It is as easy as it gets to give yourself a small dose of physical activity during your day. You can also #UseTheStairs in a creative way to transform them into a home, office or open air gym.
Five reasons to join in
You will find new ways of using the stairs
Add physical activity to your daily routine
Create a healthy habit for yourself and inspire others to follow your lead
Instead of burning electricity, you will burn calories
By participating you will join a global celebration of movement for health and wellbeing!
How to participate
Start thinking of stairs as a useful tool to help you #FindYourMove and to #BeActive. If you would like to organise an event and promote the idea in your environment, check out our No Elevators Day resources.
If you organise an event, register your event and join our social media community: Facebook, Twitter and Instagram
Share the invitation with everybody around you and share your ideas on how to #UseTheStairs on social media.
Document the event with pictures and video.
Share them with the community by using the hashtags #UseTheStairs and #NoElevatorsDay.
By Jana Milosevic, ISCA
Posted on 13/04/2021 by Jana Milosevic, ISCA