ISCA webinar shares tips on promoting European School Sport Day events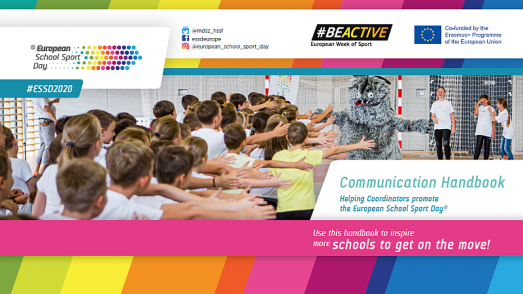 As part of the MOVE Transfer Europe-China webinar on organising European School Sport Day (ESSD) events outside of Europe, some of ESSD's founding coordinators and national coordinators gave their tips on how to successfully promote and advocate the value of ESSD to a wider audience. But this can be a daunting task for those starting out…
Laska Nenova NowWeMOVE Campaign Manager from International Sport and Culture Association presented the challenges that ESSD coordinators can face when trying to promote their events.
She listed a couple of important challenges such as the difficulty of finding of regional educational institutions on a local level, communication and sponsorship. Considering the fact that many of the event organisers are physical education teachers or principals at schools, they might not have the necessary support in terms of PR, communication and social media. That is one of the reasons why ESSD initiative provides an array of toolkits and resources – including a Communications Handbook – to help coordinators get past the first overwhelming steps.
She noted that the flexibility ESSD gives to organisers to plan the activities in their own way can be both an advantage and a challenge. She also underlined the importance of understanding national regulations when organising and promoting events – particularly in a difficult year like 2020.
The Communication Handbook for European School Sport Day 2020 (customised to the in-person/online formats offered this year) is available to download here.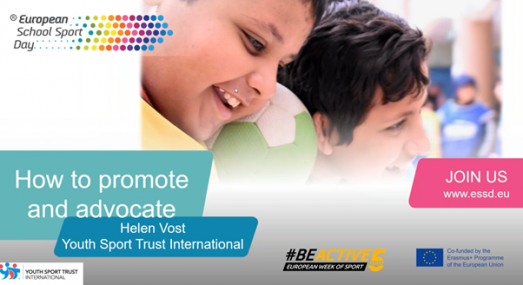 How to promote and advocate your European School Sport Day events
In her presentation 'How to promote and advocate for ESSD', Helen Vost underlined that her organisation Youth Sport Trust International (like ISCA) has been a partner of the ESSD initiative since it was first established in 2015 and key areas they have been focusing on are helping the development of the toolkit, guidance about sponsorship, and guidance about promotion and advocacy.
She stated that if advocacy is really going to work on both a local and national level it really needs to be planned carefully and include a coordination of efforts, strategic thinking, information, communications, outreach and mobilisation. On a national level, ESSD coordinators and event organisers need to influence policy makers within government, ministries of education, national governing bodies of sport and on a local level the focus is on targeting policy makers in municipalities, sports clubs, and school staff such as head teachers, principals and parents as well.
Andreu Raya Demidoff from Deporte Para La Educación y la Salud, Spain, one of ESSD's most successful coordinators shared his secrets to building partnerships on national, regional and local levels.
He listed the key factors of building a partnership, based on his own experience in Spain. He underlined the importance of identifying local coordinators from schools and public bodies, providing training and putting them in contact with each other, coordinating them to hold activities at the same time and finally awarding them through recognition with certificates, etc.
Download our free ESSD PR and sponsorship guides, developed in collaboration with Youth Sport Trust International, here.
Get involved in #ESSD2020
Get in touch with the main organiser, Hungarian School Sport Federation.
By Hilal Erkoca, ISCA
Posted on 18/08/2020 by Hilal Erkoca, ISCA