Landmark decision: Esport is an association-based grassroots sport – and should be exempt from VAT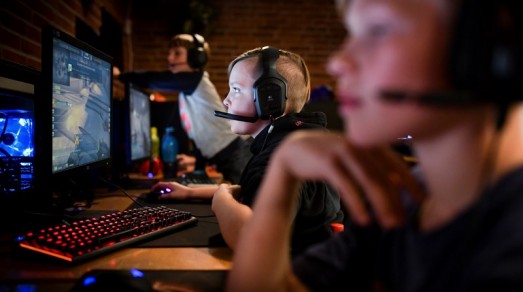 Photo: Palle Skov/DGI.
Esport is a grassroots sport on equal terms with handball, gymnastics and other association-based activities. A new ruling from the Danish Tax Assessment Council (Skatterådet) states that esports associations must be exempt from VAT – which ISCA member DGI describes as a landmark and important decision.
Is esport an association-based grassroots sport and, as such, a part of civil society? The Danish Tax Assessment Council (Skatterådet) says "Yes" in a new ruling that makes esports associations exempt from paying VAT.
DGI brought the case forward and the decision is ground-breaking, DGI President Charlotte Bach Thomassen says.
"At DGI we have always emphasised that esport is an association-based activity in line with sports such as football, shooting and table tennis. That's why it is essential that the Danish Tax Assessment Council's ruling states that esports associations under DGI's umbrella should be exempt from VAT like other sports associations. The ruling will help to ensure the continued development of association-based sport, where children and young people have the opportunity to play esport regardless of their skill level, talent and social background."
Significantly more people play esports in an association
More and more children and young people play esports in a community sport association. In recent years, DGI has observed a significant growth in the number of associations that compete with a mouse, screen, focus and endurance, and the number of esports members is steadily increasing.
"Playing esports in a sports association is not only about being good at Counter-Strike, Fortnite or other games. It is the community that is the key, in a safe environment with a positive tone and a focus on an active lifestyle, where physical, mental and social health are at the centre of digital activities," Charlotte Bach Thomassen says.
DGI brought the case forward – and won
DGI brought the case forward to the Danish Tax Assessment Council and it was accepted. As a result, it is now a formality that esports associations do not need to have VAT accounts and that esport is exempt from VAT just like other voluntary community sports associations.
The Danish Tax Assessment Council confirms in its ruling that esport is a sports discipline governed by the concept of amateur sport according to section 13 of the Danish VAT Act.
"If voluntary associations had to handle VAT accounts it would undermine the work they are doing to attract children and young people to their associations. The associations' coaches and officials should be focusing their energy on creating positive training environments for their members, not on maintaining their VAT accounts," Charlotte Bach Thomassen says.
The initiative to bring the case forward to Danish Tax Assessment Council began in 2017. A case was brought to the European Court of Justice about amateur sport and VAT, which raised concerns on the VAT status of Danish esport associations.
ISCA President Mogens Kirkeby points out Denmark has not only made a pioneering step in removing VAT requirements for community esports clubs, but it has also underlined the value to civil society of delivering esports activities in a club setting or association. This is also of growing relevance to ISCA members, he says.
"The ruling from Denmark is significant. It underlines in a broader sense that civil society has a unique role to play in promoting wellbeing for citizens," he says.
"Bringing young people together in safe, educational and healthy environments, based on strong values, will always be a benefit. This is also the case for esport. Grassroots sport organisations from all over the world, including ISCA members, are now promoting and delivering association-based esports activities, and this is a natural step to engage young people and harness their passion for gaming and esport. Making the activities VAT free in Denmark is a testament to the societal value of civil society."
Facts about esport and DGI
In 2019 there were 7742 esports members in 187 associations. In 2018 there were 4912 members, an increase of just under 58%.
Health and physical activity are important elements of esports associations under DGI's umbrella, because as a player and coach you perform better when you are in good physical shape than when you are unfit.
In collaboration with eSport Denmark, Youth Association Ungdomsringen, the Danish Association for Company Sports and with support from the Center for Ludomania and Anti Doping Denmark, DGI has been working on a Code of Ethics for Esports. The Code of Ethics is a resource to guide associations on how good conduct in esports can be implemented and adhered to.
In 2019, 969 people went to training or took a course led by DGI Esport, which was also a significant increase in participation. A common theme of all of these training programmes is health in the broader WHO context, which encompasses physical, social and mental health.
Read more: Why DGI works with esports (more in Danish)
Article translated from DGI newspiece
Posted on 02/07/2020 by DGI (translation by ISCA)