Sesc São Paulo plans "Yellow subway line takeover" to promote No Elevators Day in Brazil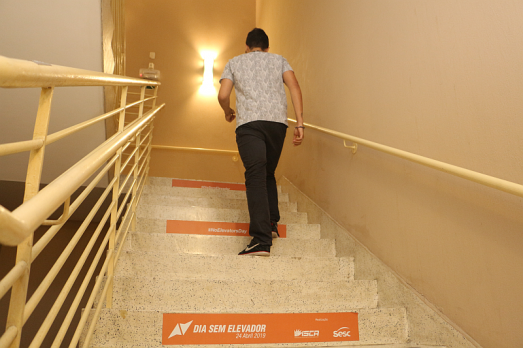 For years the Brazilian ISCA member organisation Sesc has been impressing grassroots sport enthusiasts across the globe with its award-winning facilities and enviable participation numbers. Their MOVE Week (Semana MOVE) consistently draws sky-high numbers of participants, so it was really no surprise to us when we learned about their ambitious plans for No Elevators Day on 29 April 2020.
Sesc adopted the No Elevators Day campaign in 2018 with the Portuguese hashtag #DiaSemElevador. Its campaign coordinators started small.
"In the beginning, No Elevators Day was a new thing that nobody really understood. It wasn't easy to introduce the idea," shares Tatiana Camargo from the ISCA Latin America Secretariat at Sesc.
They were happy to attract around 1000 participants to their first event, and instead of raising the numbers by promoting it directly to the public, they focused on developing valuable long-term partnerships with local organisations to help carry the messages. This approach paid off and, thanks to the collaborative expansion (from 10 to 26 partners), the participation figure grew to 10,000 in 2019.
The event also attracted a lot of engagement on social media and has featured nine times on TV. "We were expecting media attention," admits Sport and Physical Activity Development Manager Leonardo Calix Soares, "but we got a lot more than we thought we would."
Since the inception of the campaign in Europe in 2015, each No Elevators Day edition has been more active than the year before. Of course, Brazil is no exception, which is why Sesc has something big in store for 2020. No Elevators Day is about to quite literally take over the Yellow subway line in São Paulo. From April until the end of June, three stations (one per month) on the line will be decorated with No Elevators Day banners, posters and other informational resources that aim to encourage hundreds of thousands of passengers to learn about the initiative and, hopefully, choose to add more physical activity to their daily commute. Sesc is also preparing a creative video promoting the initiative, which we are looking forward to sharing soon.
Sesc started preparing for No Elevators Day 2020 more than half a year in advance. 25 out of 40 company branches, and multiple partners across Brazil, are contributing to the campaign in different ways: some work on communication and awareness, others prepare various events and activities.
"The most exciting part about No Elevators Day for me is just watching the event happen," says Leonardo. "It is also really special to see the action on TV."
Sesc's No Elevators Day website keeps track of registrations and the number of floors walked.
With just a little over a month to go, No Elevators Day 2020 is set to truly unearth its global potential, thanks to the efforts of Sesc and many other international partners.
If you want to be part of No Elevators Day, you can take the stairs wherever you are on 29 April and share your climb with the hashtags #NoElevatorsDay and #TakeTheStairs. If you are able to organise a physical event, head to the official website where you will find everything you need to help divert people away from the elevators or escalators and encourage them to use the stairs.
Reach out to Emma Venneker, ISCA's No Elevators Day coordinator if you have any questions. When it comes to active living, no action is too small to make a difference!
By Marie Oleinik, ISCA; Photo by Sesc São Paulo
Posted on 12/03/2020 by Marie Oleinik, ISCA