ActiveVoice project the spark that ignited advocacy actions across Europe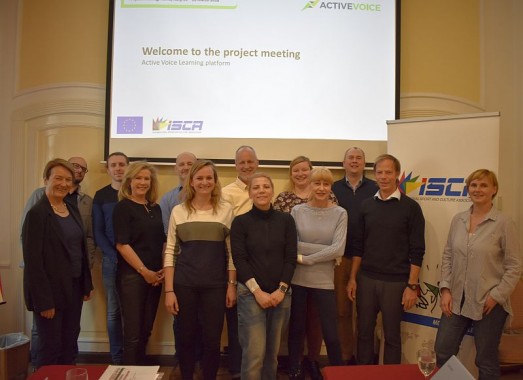 "We believe that ActiveVoice should not be seen as a project that has a beginning and the end, but more like a spark to embed advocacy into our organisations' DNA. We have a plan that everyone involved in our organisation's work should be ready for advocacy at any time and place and be ready to present appropriate data whenever suitable. This has already happened on many occasions during the ActiveVoice project."
V4Sport President Jakub Kalinowski captured the motivation of the ActiveVoice partners to continue the advocacy work they started through the project at the culmination of the project at the Moving People – Moving Europe conference in Paris in November.
At the end of 2018, the project partners put the finishing touches on a new online course that shares their experience and advice from carrying out advocacy actions in their sectors. Be one of the first to catch a sneak preview of the course here https://learn.isca.org/courses/activevoice/
Pauline Harper from EPODE International Network in France says that the project's European partners (including EPODE, ECF, EUPEA, Healthy Stadia and IASLIM), did not only contribute to the project in their advisory roles, but they are also using the project's tools to enhance their own local work.
"ActiveVoice has enhanced EPODE International Network's (EIN) expertise in advocating for physical activity and healthy lifestyles," she says.
"Thanks to the extensive training and tools that have been provided through this project, EIN will also now be able to share and transfer the ActiveVoice tools and online learning platform to our community-based intervention programmes (in EU and also globally) and without a cost."
National partners' advocacy efforts reach over 1500 stakeholders
In 2018, the national partners' advocacy efforts reached out to over 1500 stakeholders in education, as well as to Ministers and other decision markers at conferences, events, festivals, award ceremonies and by approaching them directly. They also linked their work to existing projects (such as Active School Communities), the NowWeMOVE campaign, and initiatives such as the Active Healthy Kids Alliance (V4Sport and BG Be Active contributed to the Report Card Global Matrix 3.0), and the WHO's Global Action Plan for Physical Activity.
"With our advocacy efforts during the ActiveVoice project we managed to gain a much better understanding of local and national institutions and the correlation between sport, physical activity and health in different sectors. As a result, we managed to create an alliance of 20 NGOs from 18 towns and villages around the country who work in the fields of youth and physical activity for health," Bilyana Mileva, from BG Be Active in Bulgaria, highlighted in addition to her organisation's work on the Active Healthy Kids Report Cards.
Italian partner Uisp took the project on a tour through Italy, organising round table meetings and presentations as far and wide as Rome, Milan, Bologna and Sardinia and launched a "Closing the care circle" resource featuring good practices in the promotion of physical activity to women who work in care services.
UFOLEP used the project to influence policy at the national level, and will continue these efforts until the French government completes its Sport and Society bill in 2019.