What is Grassroots Sport Diplomacy? New report sheds light on a new concept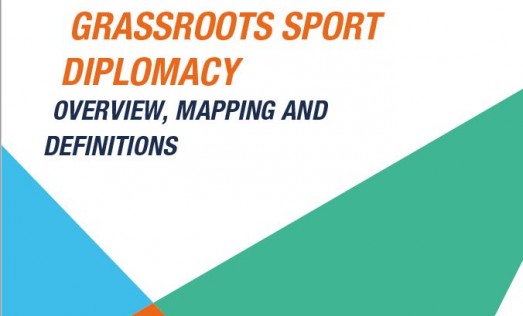 While the relationship between diplomacy and sport may, at first glance, seem obvious and even familiar, it is a subject that has long been under-studied. However, since the end of the twentieth century, and especially since the early 2000s, several universities and researchers have come to fuel the reflection on the subject, making sport diplomacy a real topic of interest and study.
So where does Grassroots Sport Diplomacy fit into the picture? Together with our project partners, we present a new report, led by the French Institute for International and Strategic Studies (IRIS), Think Tank Sport and Citizenship and President of EOSE, Prof. Thierry Zintz (a member of the EU High Level Group on Sports Diplomacy), that aims to map and define this new niche in sport.
The report has two objectives: first, it aims to contribute to the literature, in the light of the growing interest of new actors, such as the European Union, particularly following the publication of two reports by two High Level Groups on sport diplomacy and on grassroots sport. Second, it tries to define the concept of "grassroots sport diplomacy". It is important to consider this report as a first step in a long reflection, and that this definition will therefore evolve based on stakeholder consultations and pilot actions conducted throughout the Grassroots Sport Diplomacy project. In other words, at the end of the project, the partners should be able to present a definition on what "grassroots sport diplomacy" is and what it is not.
On arriving at a definition of Grassroots Sport Diplomacy, we cannot rely on academic publications to lead the way as the concept has not been explicitly mentioned in the literature before. That means we have to try to define what Grassroots Sport Diplomacy could be, in an evolving way first, and more precisely during the project, thanks to intellectual output 2 (the interviews) and intellectual output 3 (the pilot actions).
Considering that grassroots sport is a "physical leisure activity, organised and non-organised, practised regularly at non-professional level for health, educational or social purposes " and sport diplomacy is a way for actors (States, NGOs, civil society, private sector) to strengthen diplomatic, social and political relations with other actors, and enhance their external image and influence, we can consider that grassroots sport diplomacy could be defined as a new qualitative, cost efficient and impactful approach aiming at:
Increasing or creating lasting dialogue and cultural understanding;
Facilitating transfer of knowledge between the grassroots sport sector and relevant actors (including other grassroots sport organisations, States, NGOs, civil society, or even individuals) and
Contributing to society and individual development in the health, educational, sport or social fields.
Grassroots sport diplomacy has to be distinguished from grassroots sport cooperation, which uses sport as a tool at the local level, for example. The stakeholder consultations (happening now) and pilot actions will help the partners to define this concept more precisely.
The Grassroots Sport Diplomacy project is co-funded by the European Commission under the Erasmus+ Collaborative Partnerships in Sport programme.The project is led by ISCA and the partners include three French expert institutions, European Observatory of Sport and Employment (EOSE), Think Tank Sport and Citizenship and the French Institute for International and Strategic Studies (IRIS), three sport oriented bodies, National Olympic Committee and Sport Confederation of Denmark, UBAE from Spain and UISP from Italy, two governmental institutions, the National School, University and Leisure Sport Federation in Hungary and the Portuguese Institute for Sport and Youth, and one non-European partner, Social Service of Commerce (SESC) from Brazil.
Story adapted from the Executive Summary of the report.
Want to try a pilot action in Grassroots Sport Diplomacy? Apply for €5000 in support of an eligible action here (Applications are now closed)