Where to catch ISCA during the European Week of Sport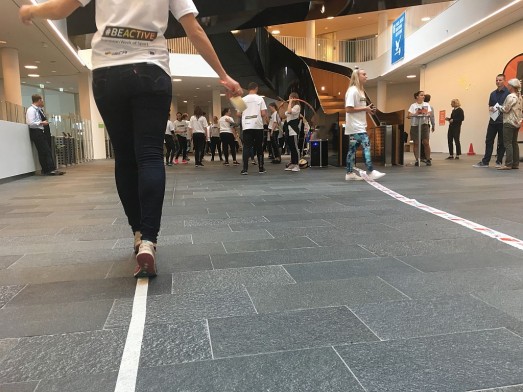 For the 4th year in a row, ISCA is playing a significant role in the European Week of Sport as both a flagship event organiser, with Bike for Europe, and the National Coordinating Body for Denmark. This year, the EU once again selected a NowWeMOVE campaign initiative, NowWeBike Bike for Europe, to promote the #BeActive message in the lead-up to and at the opening ceremony of the European Week of Sport.
The Week officially starts on Sunday 23 September and runs until 30 September, but the two Bike for Europe teams who started their journeys on 1 September will kick off the opening ceremony on Saturday 22 September in Vienna, Austria, which is also hosting the Austrian Presidency of the Council of the EU.
As it is in ISCA's DNA to promote physical activity and opportunities to be active, it won't be hard to spot our team during the European Week of Sport, especially if you are in Denmark, Vienna, Prague or Barcelona.
Here's where you can meet us over the coming week:
Austria
Friday 21 September: EU Conference on the Economic Dimension of Sport, Sport for Growth and Employment;
Critical Mass cycling event, Vienna
Saturday 22 September: European Week of Sport Opening Ceremony, Prater Park, Vienna
(Bike for Europe teams arrive 13:30 CET)
Czech Republic
Friday 21 September: Pohyb jako elixír života 2018, Jacob Schouenborg is speaking at the conference in Prague
Spain
Sunday 23 September: La Fiesta del Fitnes, Barcelona (with our MOVEment Spaces project partners)
Denmark
Saturday 22 September: Move for Life and #BeActive Night, Aarhus
Sunday 23 September: Margueritløbet, Valbyparken, Valby
Tuesday/Wednesday 25-26 September: Holdspilsdagen (Team Sports Day), Frederiksberg
Friday 28 September: WHO Europe, ISCA and Ollerup Academy of Physical Education MOVE UN City, Nordhavn
Saturday 29 September: Vejfest i Vest, Holstebro
Sunday 30 September: Runners High, Konditaget Lüders, Nordhavn
Find out more:
Bike for Europe: https://nowwebike.nowwemove.com/
European Week of Sport Denmark: https://europeanweekofsport.dk/
La Fiesta del Fitnes: http://lameva.barcelona.cat/fitnessday/ca/ (organised by ISCA MOVEment Spaces partners Ubae and City of Barcelona)