Copenhagen and Ottawa become the new world capital cities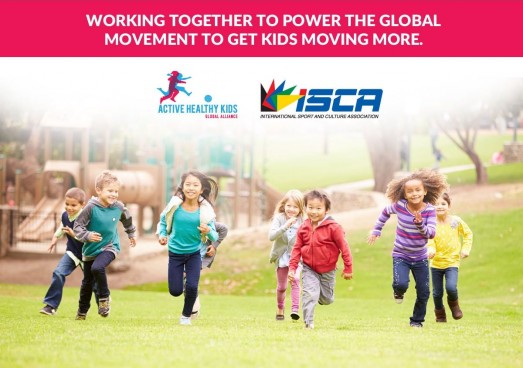 By Jakub Kalinowski, ISCA Executive Committee Member.
Each country has a capital city. Some countries, like Bolivia or South Africa for instance, have two. Capital cities are important. This is usually where most of the leaders of many sectors live and work.
As of today, Copenhagen and Ottawa have become the new capital cities of the world. The world of kids. And kids are important because they are the future. We all know that.
This is why the Active Healthy Kids Global Alliance (based in Ottawa, Canada) and the International Sport and Culture Association (based in Copenhagen, Denmark) have joined forces to dismantle the #inactivitytimebomb by developing new ways to get kids throughout the world moving again.
"The Active Healthy Kids Global Alliance is pleased and proud to partner with the International Sport and Culture Association in an effort to power the global movement to get kids moving. Through collaborative efforts like this partnership to get children and adolescents more physically active, we aim to promote their health and wellness, and that of their families, neighbourhoods and communities," Mark Tremblay President and Chair of the Active Healthy Kids Global Alliance, says.
The two organisations will work together to build bridges and connections between the world of research (universities) and the world of actions (grassroots sport organisations) in order to have more, better, evidence based projects and programmes aiming at increasing physical activity levels among all children.
"We greatly appreciate the scientific focus from the Active Healthy Kids Global Alliance on getting kids moving. The Report Cards creating the Global Matrix on physical activity for children and youth are strong tools for communication and are very supportive to the practitioners and our ISCA members," Mogens Kirkeby, President of the International Sport and Culture Association, says.
With AHKGA, working with more than 50 countries around the world, and ISCA, having its members in 88 countries on all of the continents, this is not just the Vision, it is a Plan.
And you know what? You too can become part of the solution. It does not matter which sector you are working in – private, public or NGO.
You can also join us at the AHKGA Global Congress Movement in Adelaide, Australia http://www.movementtomove.com.au
Or contact us for more information:
Jakub Kalinowski
V4SPORT Foundation President / ISCA Ex. Com. Member / AHKGA Ex. Com. Member
Posted on 27/08/2018 by Jakub Kalinowski, ISCA Executive Committee Member