Top results for ISCA and ActiveVoice partners' #GAPPA social media campaign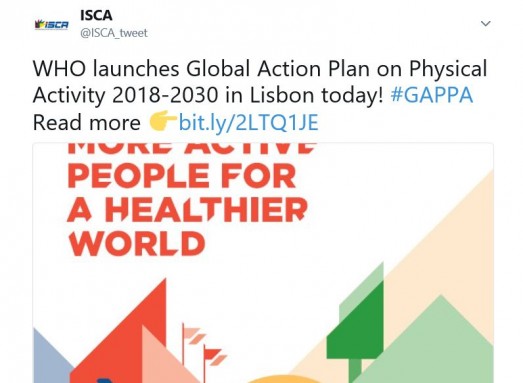 Picture: Top tweet! This post was one of the top 10 retweeted posts on #GAPPA according to a ScotPublicHealth report.
Last month we invited our project partners, members and extended network in physical activity promotion to join us in creating some social media buzz about the WHO's new Global Action Plan on Physical Activity (GAPPA) prior to its adoption and launch. And together we succeeded in making an impact.
A ScotPublicHealth report on the tweets and retweets of posts tagged #GAPPA puts ISCA at the top of the list of Twitter engagement and our ActiveVoice partners UISP and Healthy Stadia in the top 10 of content related categories.
An ISCA tweet on the launch of the Global Action Plan for Physical Activity in Lisbon was listed as one of the top retweeted posts using the #GAPPA hashtag.
These results of our advocacy efforts together with our members and partners highlight the potential of the grassroots sport and physical activity organisations to be heard globally when it comes to getting into the conversation and influencing policy in sectors such as health.
Find out more about our ActiveVoice project