There was a Tartu Call – but nobody picked up the phone!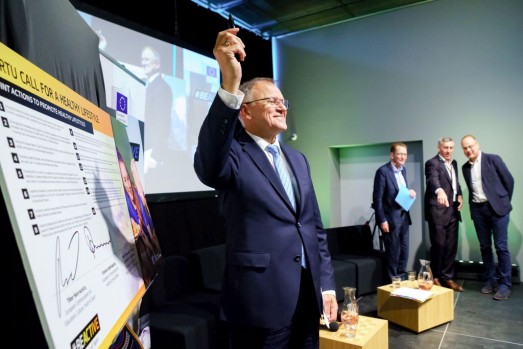 Comment by ISCA President Mogens Kirkeby. (Photo by European Commission: The EU Commissioner for Health and food Safety, Vytenis Andriukaitis, signs the Tartu Call).
Under much festivity, the Tartu Call for healthy lifestyles was announced by Commissioners Hogan, Andriukaitis and Navracsics in connection to the European Week of Sport in September last year. At ISCA, we were pleased to see these commitments, and gave our recommendations and own commitments in return.
Also in the EU Platform for Action on Diet, Physical Activity and Health (where ISCA is a member), it was announced with great pride that the EU Health Ministers and stakeholders in the High Level Group had agreed to put emphasis on Health-Enhancing Physical Activity as a solution to many of society's health problems.
As any good journalist will know, it is important to "follow the money" and see where investments will actually be made.
A very obvious place for the EU to put money behind the intentions is the EU Health Programme. So when the EU Annual Work Programme for Health for 2018 was announced recently we at ISCA read it with great interest. Because surely, physical activity would have a significant role in that?
To our disappointment, there is no such mention in the Work Programme on the upcoming calls.
It would seem that the Tartu Call was made – but nobody picked up the phone.
Posted on 25/01/2018 by ISCA President Mogens Kirkeby