Philosophical "father" of ISCA has passed away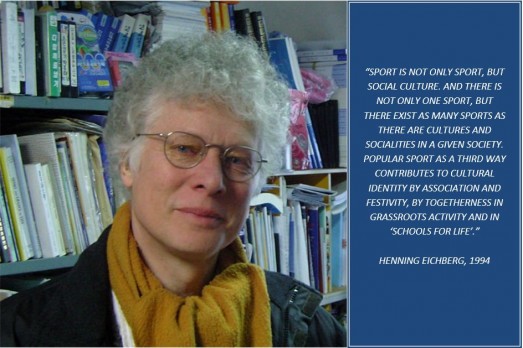 We are sad to inform that Prof Dr Henning Eichberg has passed away (1.12.1942 – 22.4.2017). Henning was often called the "philosophical father of ISCA" and he contributed to the foundation of ISCA from his position as a researcher in people, culture, democracy and Sport for All. Henning joined many of the first meetings in the process of founding ISCA and he was as well represented at the first formal meeting of ISCA Latin America, which took place in Vila la Angostura, Argentina in 1998.
Henning was born in Schlesien, East Germany, his family moved to Hamburg in 1950, and he moved to Denmark in 1982. He was extremely productive and published several books and hundreds of articles in journals in 17 different languages. Two books in particular are related to our work, "The People of Democracy" and "Bodily Democracy – Towards a philosophy of Sport for All".
The name International Sport and Culture Association is steeped in Eichberg's philosophy and alternative idea of sport. A culture of being, culture of movement, "folkelig sport og idræt" (Danish words for popular sport and sport/recreation for all") and amateurism were terms commonly used in early ISCA documents.
Eichberg specialised in the notion of a "third way of sports". The first was mainstream achievement/elite sports, the second was sport for health, and the third way was mass participation sport as part of popular culture and civic movement.
"Sport is not only sport, but social culture. And there is not only one sport, but there exist as many sports as there are cultures and socialities in a given society," he wrote in 1994.
"Popular sport as a third way contributes to cultural identity by association and festivity, by togetherness in grassroots activity and in 'schools for life'."
With the death of Henning we have lost the 'ISCA philosopher' but his playful, democratic and joyful spirit remain.
In the spirit of Henning Eichberg, ISCA has made a donation to the "Society for Threatened Peoples".
You can read more about Henning Eichberg here and not least the lecture he gave at the first meeting of ISCA Latin America in Argentina in 1998.
By Mogens Kirkeby and Rachel Payne, ISCA
Posted on 01/05/2017 by Mogens Kirkeby and Rachel Payne, ISCA