Sportanddev's 10th anniversary highlights successful action in sport development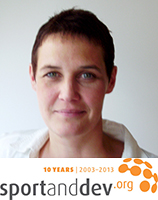 Interview with Jutta Engelhardt
There might be some question marks over what the UN's new International Day of Sport for Development and Peace will mean for sport development. But there is little doubt that an initiative it helped bring into action 10 years ago, the International Platform on Sport and Development (sportanddev), has proven to be a successful practice in this very field. The online platform celebrates its 10th anniversary this year and it now hosts 3350 individual profiles, depicts more than 500 organisations across the world and features almost 200 project descriptions. We spoke to the Swiss Academy for Development's Head of the Sport and Development, Jutta Engelhardt, about the story behind sportanddev and what has made it a success.
Who is Jutta Engelhardt?
Jutta has been the Head of the Sport and Development team at the Swiss Academy for Development (SAD) since April 2008. The Sport and Development team includes the Operating Team of sportanddev, the International Platform on Sport and Development. Before coming to SAD, Jutta was based in Holland working in health promotion and harm reduction among marginalised groups such as drug users, prisoners and sex workers. She advised on national and international policy-making and coached outreach teams in harm reduction approaches. Her job gave her the opportunity to see the back alleys and prisons of Eastern Europe as well as selected parts of Asia. A political scientist by training, Jutta is keenly interested in human interaction and social development, from the community level all the way to the political system. She believes that sustainable social development is possible despite it being a challenge and needing much global attention and effort to be accomplished. Sport is a fabulous tool to further social development and – implemented correctly – will support the process of creating sustainable social cohesion.
What is the International Platform on Sport and Development and how do people engage with it?
The International Platform on Sport and Development – or sportanddev – is a website entirely dedicated to the field of Sport and Development (S & D). sportanddev is the leading online resource and networking tool that allows S & D experts as well as S & D starters to stay informed and to network with the global community of those using sport as a tool for social development. The website is designed to
- outline the different themes in S & D
- to help people find practical tools, guidelines and resources that will help them carry out their S & D related work (or inspire them to get started!)
- to enable them to stay informed about what is going on in S & D
- to allow them to find out "who is who" and "who is doing what" across the globe in S & D
- to help them make connections and share information with like-minded people and organisations interested and active in S & D.
How has sportanddev evolved over the past 10 years?
sportanddev was started upon a request from the community. In 2003, a high level conference, known as the Magglingen conference, brought together UN and governmental policy-makers as well as a number of S & D practitioners and experts. Kofi Annan announced the establishment of the UNOSDP, the UN Office for Sport, Development and Peace under the leadership of Adolf Ogi, a former Swiss head of state. By establishing the UNOSDP, sport was officially integrated into the UN system as a tool to generate social development and peace.
At the conference, the attending delegates decided that a platform needed to be established that represented a meeting space, a knowledge hub and a representation of the S & D community to the rest of the world. sportanddev was established with the support of the Swiss government and UEFA. Five years later, the site had outgrown its format of a database and was re-launched as an interactive tool, providing the most comprehensive data collection on S & D, but also allowing for profiling, networking, and in-depth discussions of experts and lay people in S & D. sportanddev by now hosts profiles of 3350 individuals, depicts more than 500 organisations across the world and features almost 200 project descriptions. It allows access to all resources for free, makes linking into S & D related research and practice easy and provides skill-building for all those that want to contribute to the sector.
What has made sportanddev so successful?
sportanddev has been successful over the past 10 years because it has genuinely worked as a magnifying glass of the activities performed in the community. All players in the S & D community – big organisations as much as small organisations or resourceful individuals – have received the same level of attention and have been highlighted on sportanddev. This neutrality paired with a widespread support of a large donor base, who act as stakeholders and advisors to the development process of using sport as a tool, allow sportanddev to continuously grow and be used and cherished by the community.
The Operating Team, fully dedicated to gathering news, covering conferences and events, animating discussions, and facilitating best practice-handbooks and publications, are supported by the Steering Board, an advisor group of experts from all over the world, with their tasks being to update sportanddev, publish a bi-weekly newsletter and contribute to the growth of the sector by facilitating communication within the S & D community.
How do you expect sportanddev to develop in the coming 10 years?
sportanddev is continuously growing and feedback from the community – gained through a large external evaluation performed in 2012/13 – proves that it is considered a useful tool for information sharing and networking. The evaluation went as far as to quote users denoting sportanddev as a place of identity, a place where the S & D community feels represented and comfortable to share their findings.
For sportanddev, this is a fabulous point of departure to plan for the coming 10 years. It seems fair to assume that the next decade can bring more of the already achieved continuous growth and that the S & D community will consolidate itself by claiming more space in the development sector. sportanddev will support this "claiming space" by allowing for horizontal themes like child protection and safeguarding or monitoring and evaluation to be discussed in safe spaces, areas of sportanddev that can be accessed by those that really want to contribute to these specific topics. The overall community will then receive summaries from these specific working groups, allowing for in depth analysis of these horizontal themes which are also relevant for the correct use of sport as a tool for development.
sportanddev will also support the growth of the community by launching various different language versions of the Platform, to reach out to those areas of the world where English is not the main language of communication. A French version can be expected soon and further languages are to follow.
To be able to facilitate all these ambitious goals in the years to come, sportanddev will have to consolidate its funding basis for the future and make sure that current donors will be joined by new players who are willing to invest in this well-organised and fun "place of identity" for the S & D community.
---