PATHE seminar: Physical Activity and Health Alliance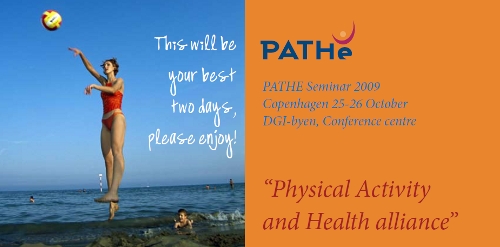 Physical Activity and Health alliance
The PATHE Seminar 2009 will take place in Copenhagen from the 25-26 October 2009 in DGI-byen's new Conference centre.

The seminar will gather the core partners of PATHE and focus on the importance of national alliances and policy coordination with respect to health and physical acticvity. ISCA President Mogens Kirkeby underlines the importance of bridge building and partnership building in a world striving for more sport activity, physically fit and active people.
ISCA is most pleased with the great results that the PATHE project has produced and encourages all interested members to get in contact with the PATHE project promoters.
Have a look at the seminar description below or visit the
PATHE website here.