Richard W. Pound to head Play the Game Advisory Board
IOC member and former President of the World Anti-Doping Agency (WADA), Richard W. Pound, is to head Play the Game's new Advisory Board.
Play the Game's commitment to democracy, transparency and freedom of expression in world sport made Pound team up with the sports communication organisation. The award-winning transparency in sports advocate also stressed the importance of Play the Game as an independent platform for dialogue on the future of sport.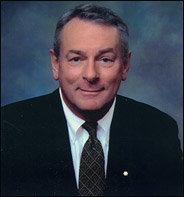 "Sport is confronted with a number of serious challenges, ranging from corruption and doping to the changes in people's lifestyle around the world," says Pound. "More than ever we need to face these challenges with full transparency and readiness to involve the public in finding solutions, and Play the Game plays an important part in this process."
"It is the only international platform that creates open dialogue between the leaders who manage sport and those media people and academics that analyse or criticise it, and both sides can benefit a lot from sharing knowledge and experiences."
"Therefore I am pleased to accept the invitation to preside over this new Advisory Board and assist Play the Game in developing its role in the global debate on sport," says Pound.
Pound is renowned for his open and direct battle against corruption is sports. His impact is such that in 2005 he was named to Time Magazine's 100 most influential people in the world for his relentless efforts to rid sport of performance-enhancing drugs.
Pound's appointment was announced by Play the Game chairman Jens Brinch in London at a press launch for Play the Game 2009, the sixth world communication conference on sport and society, which will be held in the British city of Coventry from 8-12 June 2009.
"We are honoured to count on the cooperation of Richard Pound, who like no other international sports leader in the last decade has embodied the values of Play the Game: democracy, transparency and freedom of expression," says Brinch of Pound's appointment.
"At high political risk, he has devoted all his efforts to eradicating corruption and doping in sport. This has earned him many enemies in world sport, but also a lot of friends and admirers. Moreover, as the first WADA President, he has from the beginning set new standards for openness and transparency in a global institution's communication with the world public," says Brinch.
Over the coming months, Pound together with the governing Board of Play the Game, will agree on a structure for the Advisory Board as well as suitable candidates to sit on it. The Advisory Board will provide the governing board and staff of Play the Game with guidance for the future development of the institution.
Further details of the Advisory Board will be confirmed during the course of Play the Game 2009 in Coventry this June.
Click here to visit the Play the Game homepage.