ISCA Executive Committee sets social agenda
On its latest meeting, which took place in Prague, Czech Republic, on February 29 - March 2nd, the ISCA Executive Committee decided upon the top prioritised topics for the future work of ISCA. Health and Environment were among the top issues, but also integration, leadership education, volunteerism and facility management made it to the list of priorities. Further, the Executive Committee discussed the growing need for targeted programmes for seniors, adults, youth and children.
On the occasion of the meeting of the Sports Ministers of the European Union in Slovenia on March 18, ISCA president Mogens Kirkeby states: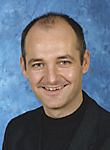 "To reach the overall goals of the social agenda, broad partnerships are needed.
I have noted the declaration issued by the Sport Ministers' Meeting on March 17, and am happy to see its alignment to the priorities of ISCA. However, I must stress that if concrete results are to be achieved, it requires broad cooperation between governments and the many diverse actors in the field of Sport for All on national and international level. I look forward to this cooperation!"