"They are the moments we are living for": ISCA Award winners share their proudest moments when working with IRTS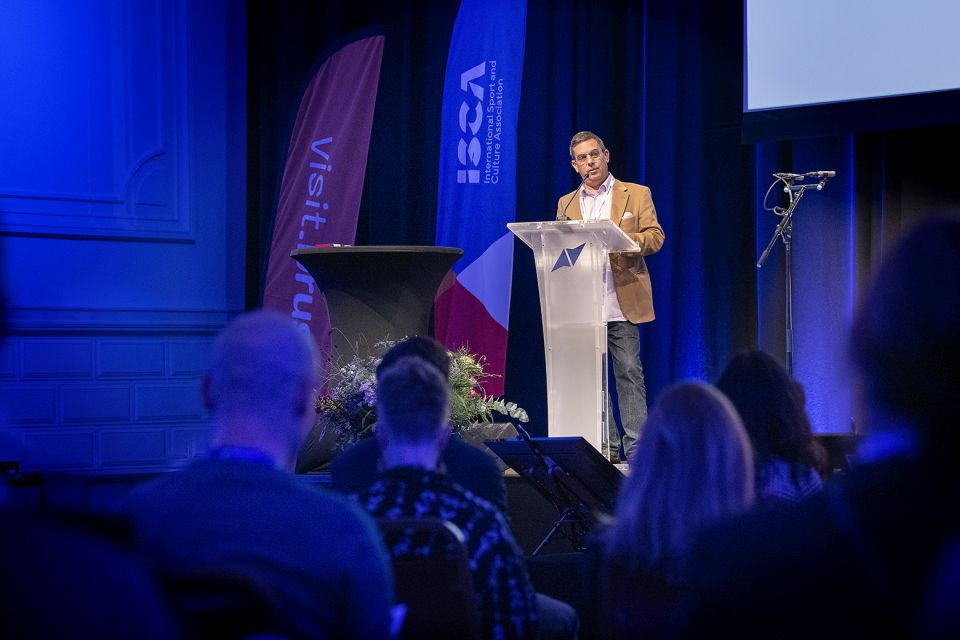 ISCA's Awards ceremony at the MOVE Congress 2021 honoured individuals and organisations working in the field of Integration of Refugees Through Sport (IRTS). The winners received four Lego trophies made by Danish children and refugee children from an asylum centre in Denmark – from a donation of 42kg of Lego bricks! – and cash prizes of €3000 each. These were certainly proud moments for all of the recipients, but the proudest moments they shared about working in this field captured exactly why this work is creating such a positive impact.
UNHCR Representative for EU Affairs, Gonzalo Vargas Llosa (pictured above), highlighted the broader impact of their work and value of this recognition in his introduction to the Awards ceremony with ISCA Secretary General Jacob Schouenborg.
"The importance of these types of awards and these types of initiatives is that it's a powerful way of countering that very negative narrative exploited far too often by politicians including, unfortunately, in the EU, that try to portray refugees as a burden," he said, adding that "I would like to highlight the creativity that all of them are using in different ways… All of those who are taking part are very good at telling their story and this is something we need to carry [forward]."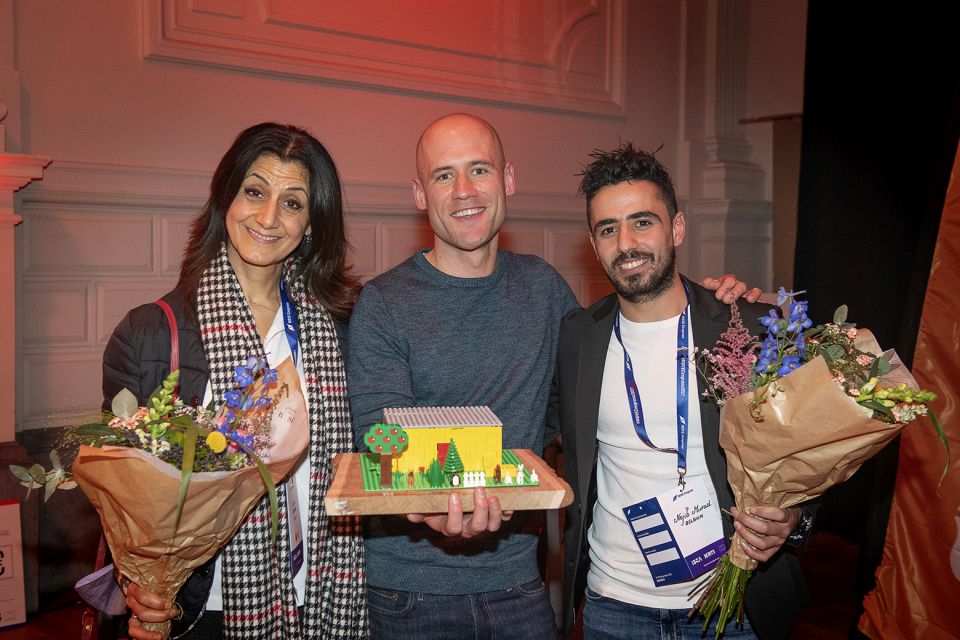 A shared celebration – quotes from our Award winners
The first award, for a best practice in IRTS Cross-Sector Partnerships, was presented to Belgian initiative, the Run Free Project.
"I don't have a refugee background, so I asked my colleague for advice," Run Free Project Coordinator Wim Poelmans (pictured above, centre) began after he accepted the award.
"He's a Syrian refugee and I asked him if we would win this award, what do I have to say? And he gave me the advice, that's the same as what he tells his family when they ask him why he likes sports, and he told me 'Sport is what I do, what calms me down. When I fled from Syria to Belgium through Turkey, sport is what really helped me along my way. So sport is in my blood, in my veins and keeps me motivated. So I invite you all to keep continuing to organise sports activities for refugees and sports activities for everyone so we can keep continuing to include refugees in our activities."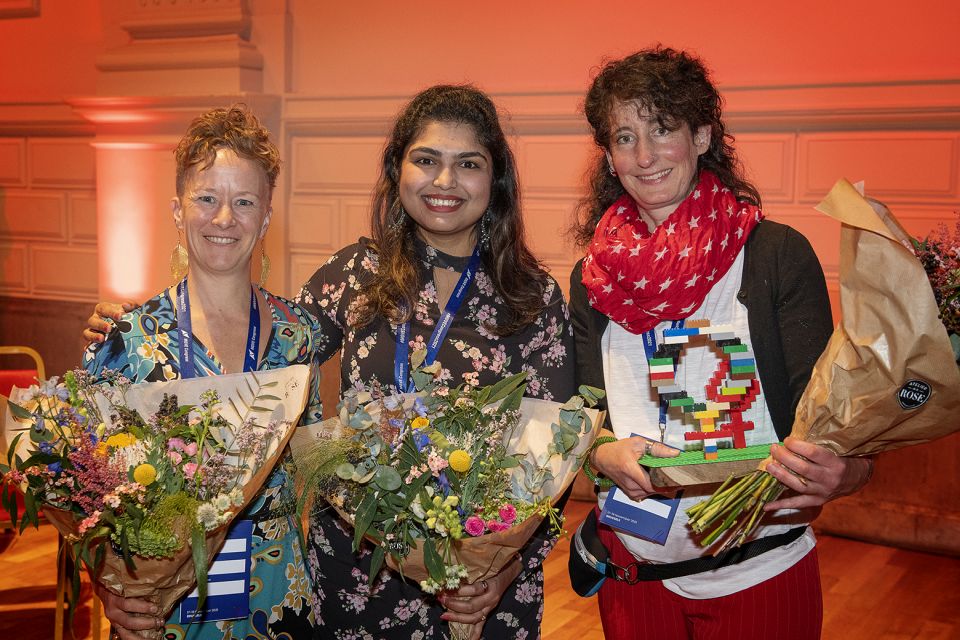 German initiative JUNO – a voice for refugee women won the Integration of Women and Girl Refugees through Sport. Despite the announcement catching JUNO Director Britta Coy (pictured above, right) by surprise, she delivered a touching acceptance speech about the personal impact community initiatives can have on the wellbeing of refugee women.
"Some of you may ask, why a project just for women? Actually, many of the [refugee] women don't have any background with sport – they were not allowed to in their home countries. So they came and asked us, 'Could you please teach us how to ride a bicycle? Because at home it was just our fathers, brothers and husbands who were allowed to.'," Coy shared.
"At the beginning we were not a sporting programme, we were something like a meeting point. So we started with bicycling and it became swimming classes with about 200 women and children. Now we've got climbing, football and my absolute favourite, boxing classes… One moment, which I'll never forget, was when one of the pretty old Afghan women came up to me after her first lesson in boxing and she had never done any sport in her life before and she came to me and said to me in broken German, 'Now I'm so many years in Germany and today is the first time that I am happy.' So that really brought tears to my eyes. They are the moments we are living for and I hope there will be many more of those moments."
The French branch of Fútbol Más won the IRTS Innovation During Covid-19 award for its virtual programme, developed in partnership with UNICEF, called "Ma maison mon terrain" which provided weekly at-home physical activity challenges for refugee children and teenagers.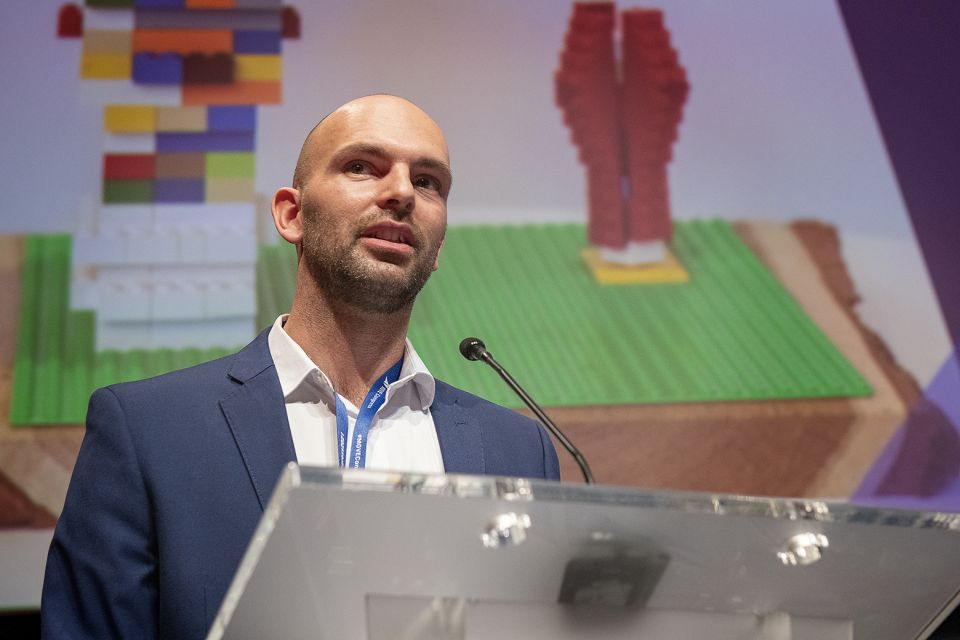 "We didn't really know what to do at the beginning [of the pandemic], but we came up with something that resonated with a lot of refugees and other people across different countries," Seppe Verbist (pictured above), Regional Director for Africa and Europe, said. "We've been working with refugees in so many different places and contexts – in France with asylum seekers and refugees in closed centres, in partnership with the government as well in integration. We've been working with a migration caravan in Mexico, we've been working with refugees in Kenya… so it's been a great journey and these people have been inspiring us so much throughout the journey."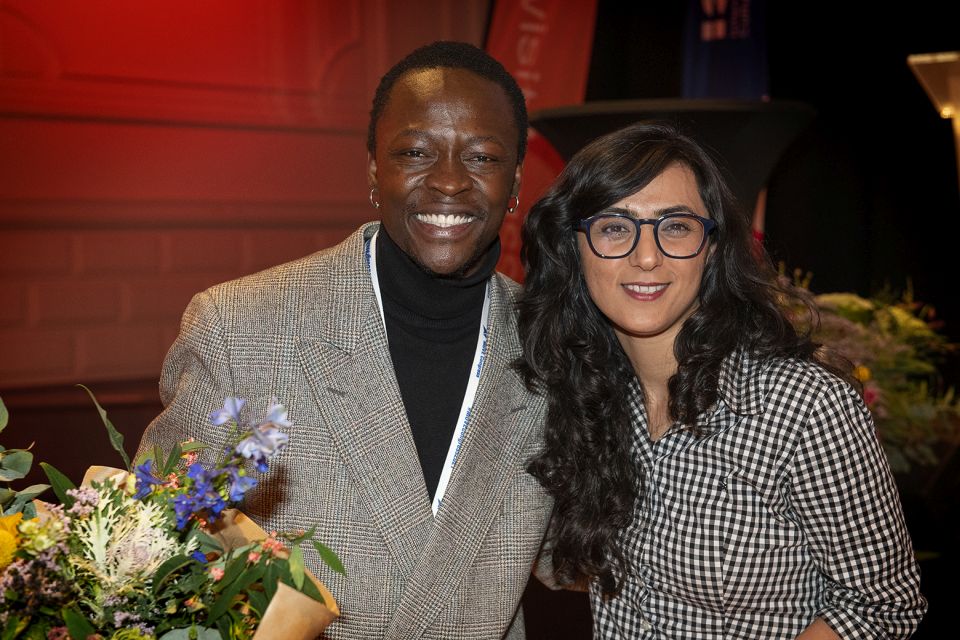 Gerald Mballe (pictured above, left) won the nail-biting people's choice award, which was contested among today's most influential role models in the Integration of Refugees Through Sport, including international advocates and finalists Khalida Popal and Gibril Deen. The award was both a personal and shared triumph, he said.
"We are here because of the tremendous work you are all doing," Mballe said to the audience after acknowledging his fellow nominees. "If you give us a voice and involve us directly, then this will be the result… We always consider ourselves not as victims and that is why we fight to get our voices heard. Thank God we have people like you who dedicate the safe space and involve us directly, and having us here at an international level is a big deal for us."
Mballe also acknowledged the Special Olympics, where he works as an ambassador and Advisor for Unified with Refugees programmes, for including him as a collaborative partner when he was settling in Italy as a refugee.
"People who offered me a hand of friendship in my most difficult moments when arriving in Italy back in 2015, who embraced me and gave me a safe space; people who helped me get my self-esteem."
All of the Awards finalists are part of the IRTS Network, which will continue to meet and share experiences and best practices in 2022 through ISCA's EU-supported project.
Read more about the ISCA Awards ceremony here
Watch the full Awards ceremony on our YouTube channel
Posted on 18/11/2021 by Rachel Payne, ISCA