Over 45 speakers confirmed for MOVE Congress 2023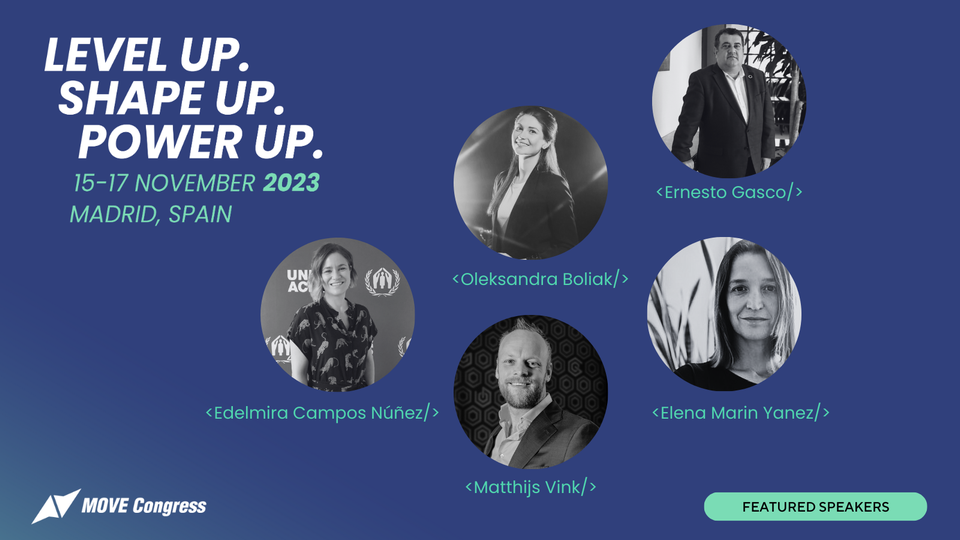 The MOVE Congress 2023 is as diverse and exciting as ever before – we now have 45 speakers confirmed (and counting) from 22 countries across five continents. Spanish High Commissioner Against Child Poverty, Ernesto Gasco, will join our keynote line-up on Thursday 16 November and the Gasol Foundation is set to feature as a highlight of our masterclass 'FUNdamentals of a healthy childhood' on Friday 17 November.
We can't wait to start the 11th MOVE Congress together with our organising partners Fútbol Más Foundation and Deporte para la Educación y la Salud (DES), media partner España se Mueve and supporters the High Spanish Council of Sports (which will feature in the opening) and the High Commissioner Against Child Poverty.
More speaker highlights revealed:
Edelmira Campos Núñez, Assistant External Relations Officer, United Nations High Commissioner for Refugees, Spain
Matthijs Vink, CEO of H20 esports and Go!Gaming, Netherlands
Oleksandra Boliak, Secretary General, UkraineActive
Elena Marin Yanez, Head of Programmes and Grants, Laureus Sport for Good Foundation, UK
Laura Lorenzo, Head of Communication and Marketing, Gasol Foundation, Spain
Stephen Whiting, Technical Officer, World Health Organization
Viktória Kovács, Consultant, Hungarian Country Office of the World Health Organization
Sophia Schuff, Director & Team Lead, Gehl Architects, Denmark
Rául Dolz Sánchez, Senior Urban Designer, Gehl Architects, Spain
Rocio Ruiz-Berdejo, Real Betis Balompié Foundation, Spain
Etsuko Yamada, Head of International Sport for Development, Japan Sport Council
Oliver Vanges, Development Specialist, Lokale og Anlægsfonden (Danish Foundation for Culture and Sports Facilities)
Gustav Svanborg Edén, Project Manager, Skateboarding and Urban Development, City of Malmö, Sweden
Petteri Lahti, Head of the Sport Department, City of Pori, Finland
Haneen Khatib, Consultant, sportanddev, Jordan
and much more! Visit the MOVE Congress website to browse the full list

The conference is supported by the European Union through projects including Icehearts Europe, Placemaking and Sport, European Grassroots Esports, IRTS Ukraine and an EU4Health programme operating grant.
Posted on 19/10/2023 by Rachel Payne, ISCA