Applications open for the DigiFit Experience incubation programme: Get fit for the digital age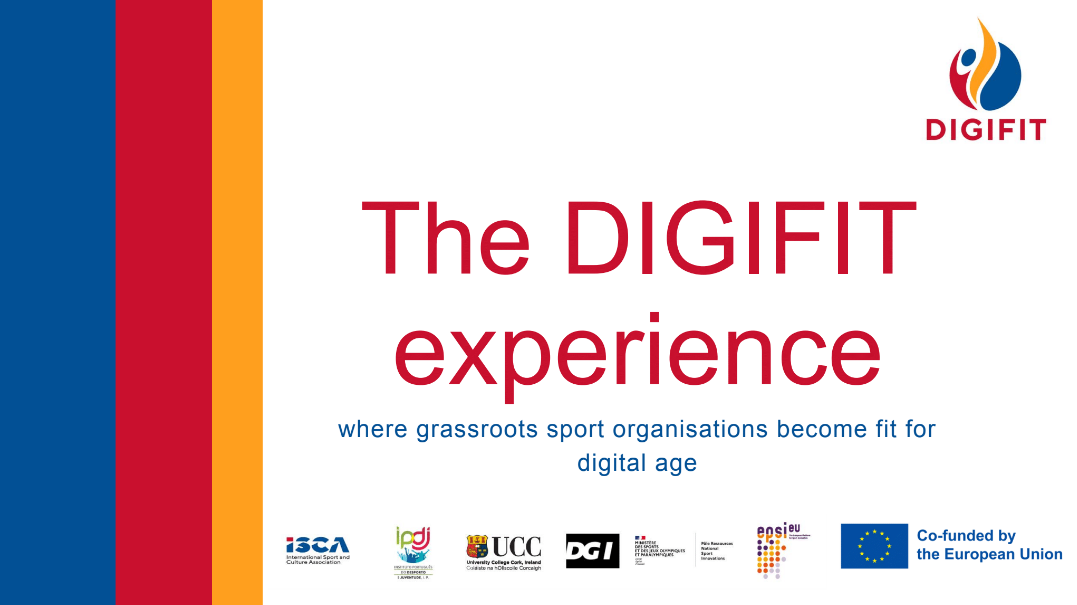 ISCA's EU-supported DigiFit project is offering micro-grants to help grassroots sport organisations get fit for the digital age. Applications are now open for the DigiFit 'Learn and Do' Experience, a groundbreaking 12-month programme designed to provide specialised support to local grassroots sport organisations and clubs. Its primary goal is to empower them to investigate and address key challenges through the piloting of innovative digital solutions. With 10 pilot testing projects spanning 10 countries, the DigiFit Experience outlines clear objectives for these planned pilot actions, benefiting both the participating organisations and their stakeholders.
Each pilot project focuses on a critical industry issue and tailors a bespoke digital solution to tackle it effectively. The process involves carefully orchestrated matchmaking between the participating sport organisations and solution providers. This collaboration aims to test and adopt concrete digital solutions into their operational workflows.
This innovative initiative seeks to foster a collaborative ecosystem, inviting forward-thinking solution providers and grassroots sport organisations to come together. By participating in this program, individuals and organisations alike will have the opportunity to:
Exchange Knowledge: Engage in sharing and learning from experts and peers in the field.
Develop Digital Capability: Enhance the skills necessary to thrive in the digital age.
Focus on Problem-Solving: Collaboratively identify and address key challenges within respective organisations.
Throughout the pilot phase, the DigiFit Experience aims to facilitate discussions, knowledge sharing, and innovative solutions. It draws inspiration from the lessons learned in previous phases of the DigiFit project, fostering a dynamic and adaptable approach to digital transformation within the grassroots sport sector.
Join us in the DigiFit Experience and embark on a transformative journey towards enhanced digital readiness and future success in the digital age!
Download the full call for applications here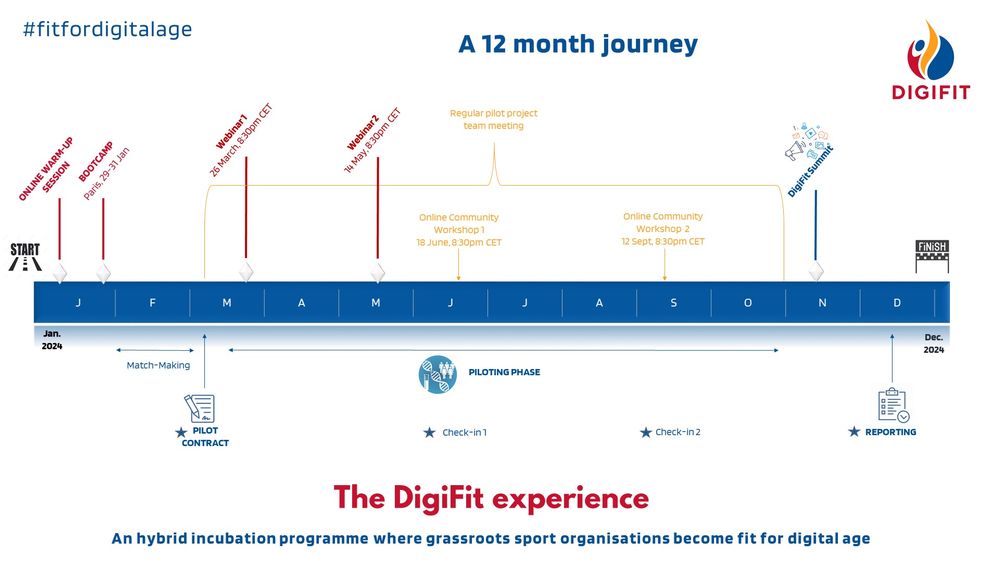 The DigiFit Experience is open to:
1. Grassroots Sport Organisations
Eligibility: Grassroots sport organisations that are keen to explore and embrace digitalisation in their operations.
Type of Organisation: This includes a diverse range of entities, such as local sport clubs, community sport associations, and other similar organisation.
Requirements: To participate, these organisations must meet the following criteria:
Be based in eligible countries within the Erasmus+ programme and partner countries.
Commit to being available with at least two participants for the entire 12-month program duration – including participation in the bootcamp in Paris.
Possess a basic understanding of the English language to facilitate communication and collaboration (at least one of the team member).
Demonstrate a clear interest in innovation and a willingness to integrate digitalisation into the sport sector.
APPLY HERE as a grassroots sport organisation
2. Sport Solution Providers
Eligibility: Sport solution providers encompassing startups, SMEs, established companies, organisations, or groups actively involved in sport innovation.
Requirements: To take part in the DigiFit Experience, solution providers must adhere to the following prerequisites:
Be based in eligible countries within the Erasmus+ programme and partner countries.
Commit to participating throughout the entire 12-month program duration - and be available to join the Bootcamp in Paris.
Possess a basic proficiency in the English language to ensure effective communication with other participants.
Display a proven interest in advancing innovation and digitalisation within the sport sector.
APPLY HERE as a solution provider
Micro-grants awarded to each selected pilot
Each pilot will receive financial support in the form of a Grant of up to €5,000 for the implementation and testing phase of the DigiFit Experience AND a specific support equivalent to €5,000 covering the cost of the Bootcamp (travel, accommodation, subsistence, materials and trainers for two representative of the grassroots sport organisation and one representative of the solution provider) as well as the online support over the 12-month programme.
By participating, you can expect to grow, learn, and contribute to the advancement of the sector while reaping the rewards of digital transformation and international exposure. Join us in shaping the future of sport through technology and innovation.
Application Period: 17 October to 10 November 2023
Application Submission: During this period, eligible grassroots sport organisations and clubs, as well as solution providers, can submit their applications to participate in The DigiFit Experience.
Applications will be accepted through online forms, which will be accessible starting from 17 October 2023.
Application Review: Our dedicated selection committee will carefully review all submitted applications. Each application will be assessed based on criteria such as the organisation's commitment to digital transformation, the relevance of the identified problem, and the potential impact of the proposed solution.
Notification of Acceptance: Successful applicants will be notified of their acceptance to participate in the DigiFit Experience by 27 November 2023.
Find out more about the DigiFit project at the official website

Posted on 17/10/2023 by ISCA and EPSI