Game-changing alliance: sportanddev and ISCA join forces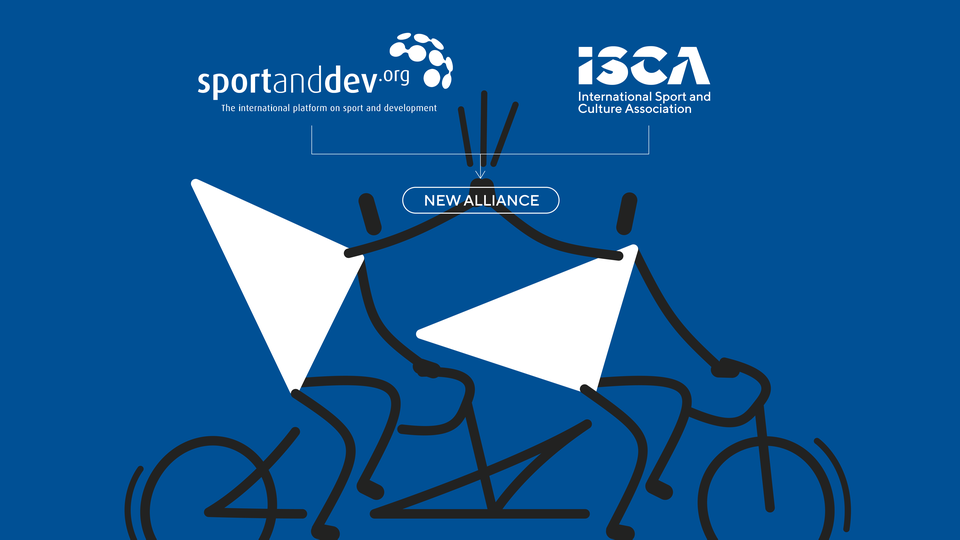 A stronger, more consolidated sport for development sector: this is the vision behind the new alliance between the International Platform on Sport and Development and the International Sport and Culture Association, which is announced today.
For immediate release: 5 October 2023
"We can do it together!" This is the rallying call of the move of the International Platform on Sport and Development (sportanddev) and the International Sport and Culture Association (ISCA). The two have formed a multi-year strategic partnership to ensure that sport better serves all in society, with a focus on strengthening impact and collaboration in sport and development.
The agreement means that the operations of sportanddev (finance, human resource and legal) will be managed by ISCA, a non-governmental and not-for-profit umbrella association open to organisations working within the field of recreational sport and physical activity. ISCA is headquartered in Denmark but operates globally with a community of 3669 users and a democratic backbone of 79 full and premium member organisations across the world. ISCA has significant experience in topics including sport policy and advocating for sport for all.
ISCA was selected as the new host for sportanddev after a public call for proposals in 2022 and an extensive review process by the sportanddev Steering Board. sportanddev was hosted by the Swiss Academy for Development for the last 20 years since the inception of the platform in 2003.
What does the alliance mean?
The two will engage in close strategic cooperation but will remain as distinct organisations and brands. Their respective boards will continue to operate independently and set the course for the development of sportanddev and ISCA, respectively.
This means sportanddev will maintain its autonomy and impartiality, critical to its success as a leading global platform for sport and development.
The shared ambitions are high! By joining forces, the two organisations aim to strengthen not only their own work but also to start new initiatives that can impact the whole sector and consolidate the sport for development community through better collaboration and a more unified voice.
Ben Howard, chair of the sportanddev Steering Board, says: "sportanddev is looking to broaden its impact. Through this strategic alliance with ISCA, we are confident that we can deliver a bigger reach, form more partnerships and continue to demonstrate leadership for the sport for development sector and all our stakeholders who remain critical to our mission."
President of ISCA Mogens Kirkeby agrees: "ISCA is very pleased to engage in this alliance. With our strong starting point in sport for all, physical activity and play, we can now provide additional opportunities and open new doors for our members and stakeholders in the field of sport for development. We look forward to the journey!"
The two entities will announce new joint initiatives in the coming months, and welcome dialogue with other stakeholders that want to contribute to the shared vision of sport better serving society.
sportanddev has until now been hosted by the Swiss Academy for Development (SA4D) since its inception in 2003. The sportanddev team and Steering Board would like to thank SA4D for 20 years of positive collaboration and hope to continue working closely together in future.
About the strategic alliance:
ISCA will assume legal responsibility for sportanddev operations (managing sportanddev finances, human resource contracts and legal support) as part of ISCA's ongoing work.
sportanddev and ISCA will continue as separate brands with separate mandates.
The sportanddev Steering Board will continue to autonomously drive the development of sportanddev, and the ISCA Executive Committee will continue to oversee development of ISCA. The two boards will liaise with each other and explore relevant areas of development opportunities and cooperation.
sportanddev will be legally registered under ISCA in Denmark. Both entities agree that they will pursue common and joint initiatives as well as continue to develop programmes that are independent from each other.
About sportanddev
The International Platform on Sport and Development (sportanddev) is a leading global hub for those using sport to achieve social, environmental and economic development objectives. sportanddev provides the global platform for sharing knowledge, building good practice and capacity, facilitating coordination, and fostering partnerships between and within different stakeholder groups.
About ISCA
The International Sport and Culture Association (ISCA) is a non-governmental and not-for-profit global umbrella association empowering physical activity stakeholders, starting with its members, to get more people active and enjoy their human right to move. Focusing on the societal value of grassroots sport, physical activity and play, ISCA is #MovingPeople!
Posted on 05/10/2023 by ISCA and sportanddev