A new kind of GUM that can help generations stick together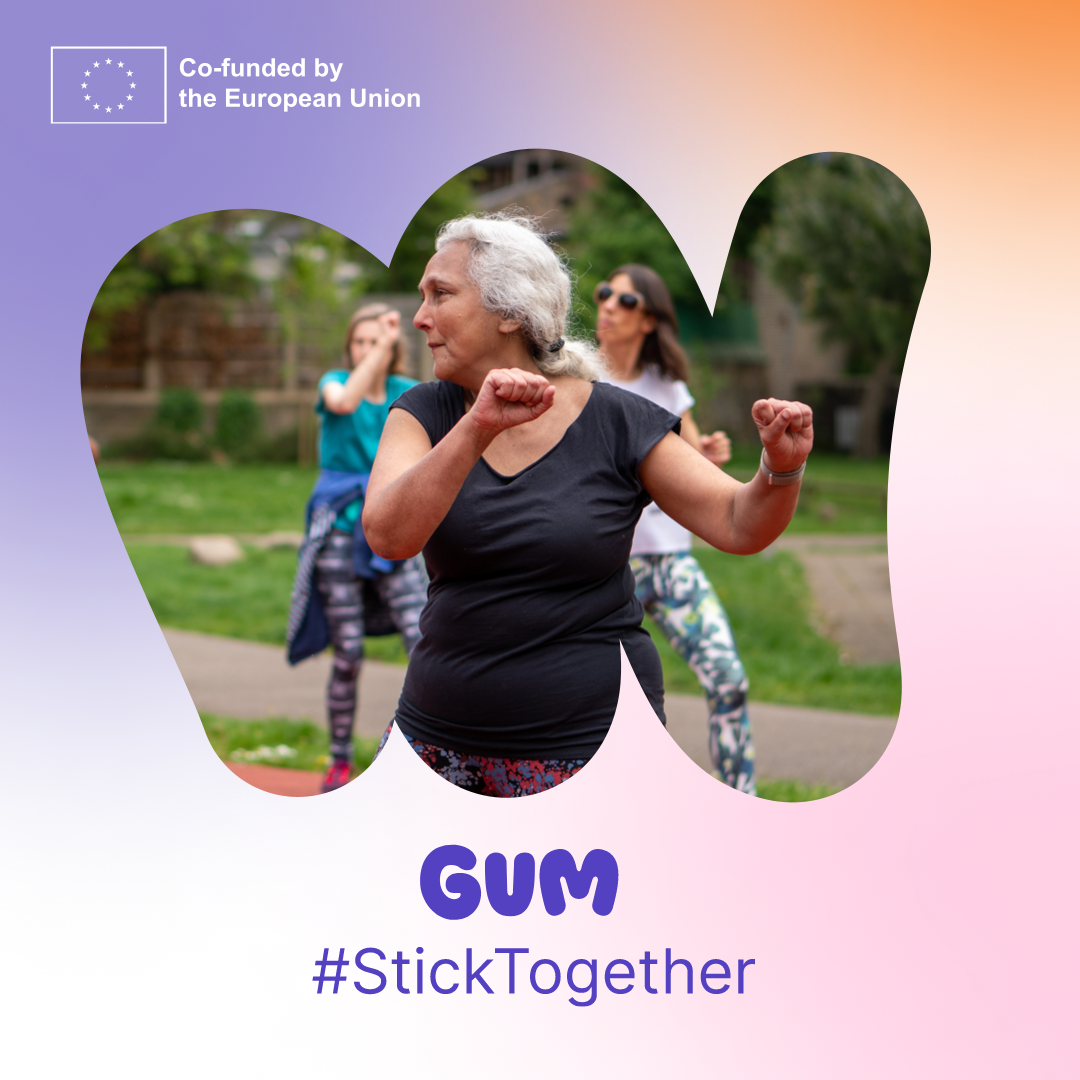 Earlier in the year, we announced the launch of a brand new project called Generations Uniting through Sport (GUS). But when our international partners gathered at the kick-off in Copenhagen, they discovered a barrier in the word "sport". Because physical activities that appeal to both younger and older generations are often more about "movement" than organised sport. And they discovered that Generations Uniting through Movement (GUM) could be the right formula to bring generations together – and help them #StickTogether.
So with the next project meeting coming up in the Netherlands next week, we're ready to unveil our playful new title and branding for the GUM project. The official project website is on its way, ready for launch later this month.
The aim of the EU Erasmus+ Cooperation partnership project GUM is to identify, recruit, train and support a cohort of experienced practitioners who will facilitate local-scale activities that connect young people with seniors to help increase their participation in physical activity and sport. Rather than focusing on traditional sport, there is a strong emphasis on piloting activities in five countries (Bulgaria, France, Slovenia, Spain and the UK) that explore ways of adapting traditional and non-formal games to different age groups and physical conditions.
Even though the positive effects of regular physical activity on social, mental and physical health in intergenerational settings is widely acknowledged by researchers, there are still gaps in this awareness among sport organisations, stakeholders and policymakers. Additionally, in many instances throughout Europe, lack of national funds allocated to intergenerational programmes hinders the sustainability of these kinds of initiatives.
Making a conscious change from sport to movement in the name of the project puts any kind of movement in the limelight – in line with the World Health Organisation's Every Move Counts campaign and research. GUM could be the magic glue that sticks us all together and we hope our colourful campaign will attract attention and support to initiatives that keep people active across ages.
The Generations Uniting through Movement (GUM) project is supported by the EU Erasmus+ programme and the partners are ISCA (lead coordinator), Youth Sport Trust (UK), Sports Union of Slovenia, BG Be Active (Bulgaria), Deporte Para La Educacion Y La Salud (DES) (Spain), Stichting Hanzehogeschool Groningen (Hanze) (the Netherlands) and Azur Sport Sante (France).
Find out more about the project here
Posted on 13/06/2023 by Anita Kiraly and Rachel Payne, ISCA