Get your game on: European School Sport Day shines the spotlight on PLAY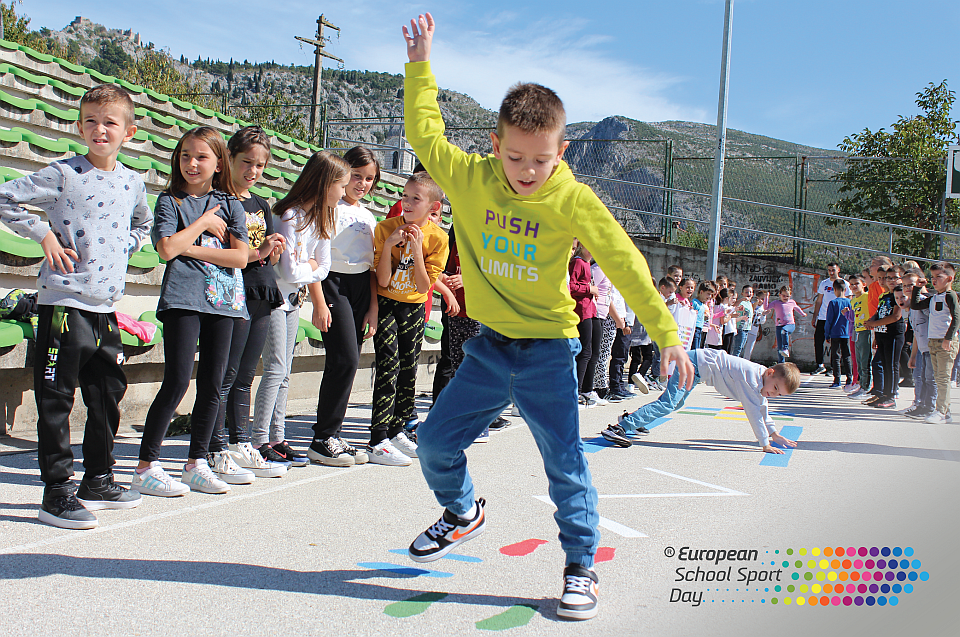 Play is an important social pastime in all of our lives. For children, it is essential, as it helps them make friends and gain experiences through games that will stay with them for a lifetime. Adults find themselves thinking that they haven't played for so long that they may not even remember it. But play is all around us as adults. It is up to us, our own creativity, how we put it into practice in our everyday lives.
On 29 September 2023, European School Sport Day will be shining the spotlight on finding new, joyful, fun ways to be #BeActive and thereby motivating children to adopt a more active lifestyle. Following the concept of the Hungarian School Sport Federation's shortlisted programme for the #BeInclusive Award in 2017, called TE IS (literally meaning You Too, 2017), let's dive deeper into the art of play.
The process of playing games is a natural psychological phenomenon for children, as one of the most important cognitive functions in a child's development is play. Games can take many forms, and the ones that can have the biggest impact on children's development are those that use physical movement as a tool. Children use play to process difficult emotions and novel scenarios. Within the safe, exploratory space of play, they constantly test their own abilities to adapt and make new discoveries.
Although benefits of play to the cognitive, physical, social, and emotional well-being of children and youth have been widely acknowledged in scientific literature, what can we say about adults? Well, adults are adults. They don't need to learn how to cooperate, set social boundaries, or learn new skills. They have to pay bills, go to work, do housework. They don't have time to have fun with games and entertainment. Right?
Well, Darryl Edwards would disagree. A former programmer and investment banking technologist, who had had enough of the sedentary lifestyle that came along with his job, set about creating a programme for himself that was about play, joy, and excitement that reminded him of his experiences as a kid when he could play all summer long. As the founder of 'Primal Play', he held a keynote speech at the 2019 MOVE Congress, sharing his mission to tackle the physical inactivity epidemic by encouraging humans to reconnect with their inner child and to fall in love with movement again.
We tend to forget that humans – regardless of their age – are one of the few species on this planet that preserve the ability to play. Researchers studying the role of play throughout our lives call play a "profound biological process" (Brown, 2009), supporting with evidence that playing throughout our lives continues to develop the human brain. But how do we benefit from play? It reduces stress, increases social cohesion, but most importantly while you are playing, you are basically exercising without noticing that you are exercising – just to name a few.
Even with age, trying new games can be very exciting. Filled with expectations and curiosity, you almost don't even notice it and you're already on the pitch in your imagination! We have an idea in our heads about how the game is played, the rules, how to succeed in the game, and our willingness to take action. To make the game enjoyable for everyone at this point in a game that is new to everyone, it is necessary to clarify a few things. What should you consider?
1. What is the aim of the game?
What else could it be but for everyone to have fun? Together you can make the game a success. It can also be seen as a voyage of discovery that requires planning, organisation, courage and flexibility, among other things. It is important that all participants understand the game in the same way. It's worth taking a few minutes to agree on a goal.
2. Who has what role?
Who will lead the game? Some games require different roles. It is good to clarify these specific roles in advance, as their absence will hinder the flow of the game. A game leader is needed in most cases. His/her most important task will probably be to motivate and encourage his/her fellow players to have fun. To do this, he or she will need to know the rules of the game in advance and, if necessary, will have to explain them to the others several times. It is a role with responsibility but also with recognition! You may also need, for example, a helper, a referee, team captains, or even a game caller to show the others how to play. The roles can also be decided together, depending on each player's preferences and abilities.
3. What are the rules of the game?
There are plenty of rules, usually, where the game designers have devised rules that allow for multiple variations. That is why it may be important to discuss together which rules you will follow. It's okay not to agree at first, you can always change the set of rules by which you are playing. Not to mention that making your own rules is an exciting "game" in itself.
4. How to form teams?
There are a lot of way to do so. It could be random, drawn by lot, decided by team captains, based on common traits, or a simple game.
5. What kind of space do you need?
Fortunately, most of the games can be played in various settings. What you should think about is where in your environment the most suitable location for a particular game might be. Make sure you do thorough, detailed site research! For example, map out where the boundaries of the game could be, and assess how large and what kind of space you could manage, taking into account the number of participants.
6. What does safe play mean?
All players, including those who join in on the move, want to feel safe. It is worth making sure that the playing area is free of obstacles, but the atmosphere of the community around you is just as important in creating a sense of safety. Anyone can stop the game in progress if they see a hazard (such as broken glass on the pitch) or feel unwell for any reason.
7. What to look out for at the end of the game?
Make sure you celebrate together because that's the best part! Afterwards, you'll want to disperse, but remember that someone else will want to use the playing area as it was. Unfortunately, there is no way around tidying up. In the meantime, you can even talk about how everyone felt! It's also a great opportunity to brainstorm new games.
Bearing these in mind, dear Reader, do not be afraid escape from the grey daily routine and commit 100% to letting your inner child rise to the surface!
Building on the need to find new, exciting and joyful ways to be physically active, we're working on a few focus topic toolkit for European School Sport Day that will share a collection of ideas and best practices that are used or known by schools and organisations who have collaborated on this programme for years. Stay tuned!
Visit the official European School Sport Day website to find out more or register an event
References:
Aranyosi, M. (ed., 2017): Játssz TE IS! – Játéktár gyerekektől gyerekeknek. Hungarian School Sport Federation, Budapest.
Brown, S. L. (2009). Play: How it shapes the brain, opens the imagination, and invigorates the soul. Penguin.

Disclaimer
Funded by the European Union. Views and opinions expressed are however those of the author(s) only and do not necessarily reflect those of the European Union or the European Education and Culture Executive Agency (EACEA). Neither the European Union nor EACEA can be held responsible for them.
Project coordinator: Hungarian School Sport Federation
Partners: International Sport and Culture Association (ISCA, Denmark), European Physical Education Association (EUPEA, Luxemburg), BG Be Active Association (BGBA, Bulgaria), Deporte Para La Educacion Y La Salud (DES, Spain), Fundacja V4 Sport (V4 Sport, Poland)
Funder: European Commission
Timeline: 1 January 2023 – 31 December 2023
Website: https://www.essd.eu
Posted on 28/04/2023 by Anita Kiraly, ISCA