ISCA webinar: How do we ensure that socially disadvantaged groups have access to HEPA?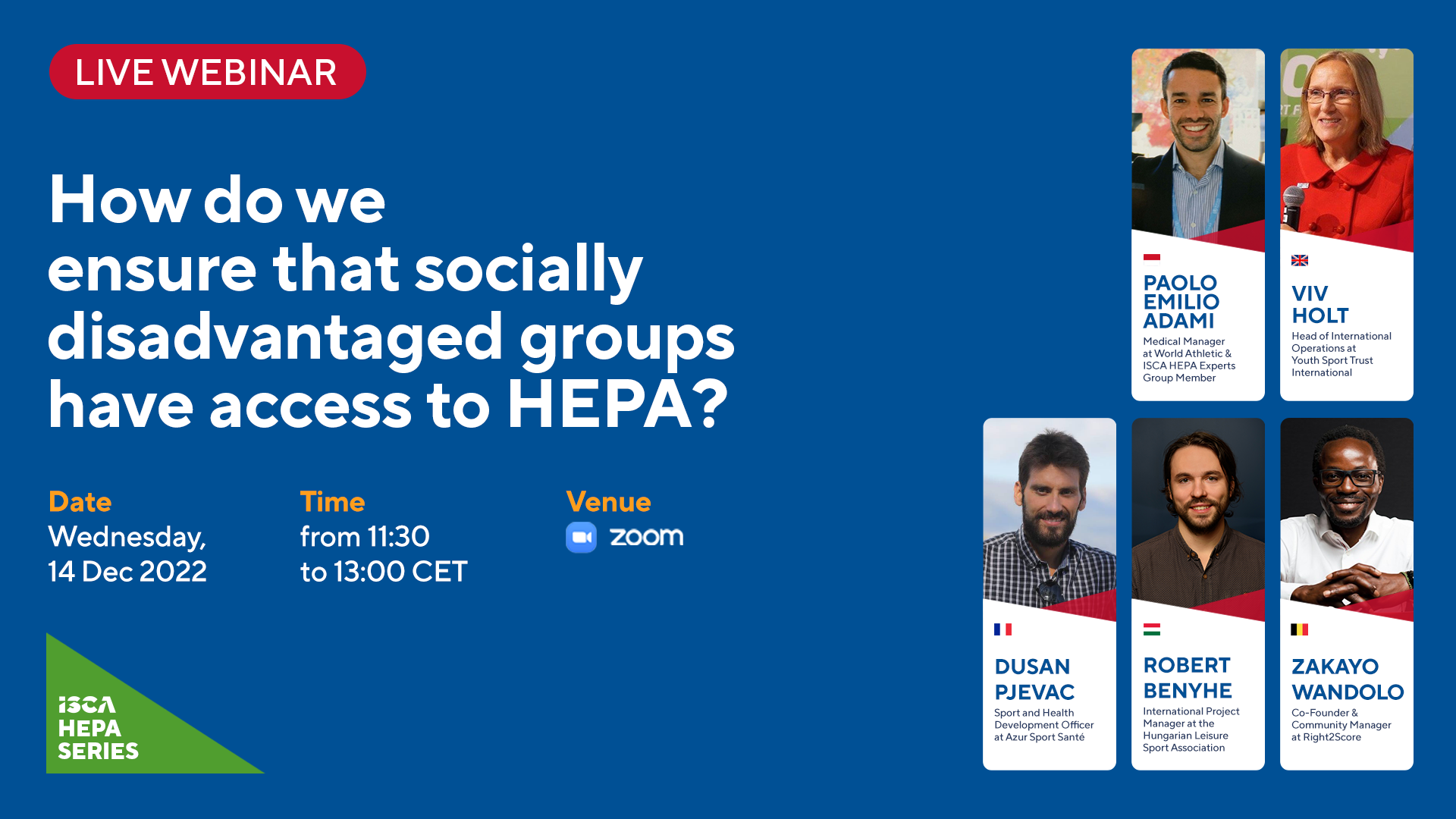 Registration is now open for the next webinar in three-part series on health-enhancing physical activity and enabling a #HealthyLifestyle4All, which will take place online on 14 December 2022 from 11:30am to 1pm CET. During these 90 minutes we will explore what can be done to develop targeted and tailored HEPA initiatives that take into account the cultural contexts and everyday circumstances of socially disadvantaged groups and hard-to-reach populations.
At ISCA, we believe that to raise the bar when it comes to our future generations' health and wellbeing, we must target all citizens and ensure that being physically active becomes a normal part of life for everyone. However, there is extensive evidence that health promotion routinely benefits those who are already the most socioeconomically advantaged. That's how we know we need to do better.
By attending this webinar, you will gain insights into delivering HEPA for socially disadvantaged groups from a member of the ISCA HEPA Expert Group, Paolo Emilio Adami, Medical Manager at World Athletic, and Viv Holt, Head of International Operations at Youth Sport Trust International, plus three leaders of best practices in this field.
You will learn first-hand tips and tricks as well as lessons learned from three existing practices covering different types of socially disadvantaged groups:
Access to sport and HEPA for women and girls will be covered by Dusan Pjevac, Sport and Health Development Officer at Azur Sport Santé in France– presenting the "Activ'Attitude" initiative.
Access to sport and HEPA for the elderly will be covered by Robert Benyhe, International Project Manager at the Hungarian Leisure Sport Association in Hungary, presenting the Senior Sport Festival and the Senior Movement Experience initiatives.
Access to sport and HEPA for disadvantaged young people from ethnically diverse and poor backgrounds will be covered by Zakayo Wandoloh, Co-Founder & Community Manager at Right2Score in Belgium, presenting the Right2Score initiatives.
Last, but not least, you will have the chance during the final part of the webinar to ask your own questions and share your own views.

Register for the 2nd webinar of the ISCA HEPA series
Read about and watch a recap of our first webinar
Note: Due to illness we have unfortunately needed to postpone the originally planned webinar 'How to muscle up your game and help tackle the number 1 epidemic in the world' until 20 January 2023 from 11:30am to 1pm CET. A new registration link will be published soon.
Posted on 07/12/2022 by Carole Ponchon, ISCA