Celebrating Jean Claude Besnard: Founding ISCA member is "ageing like a vintage wine"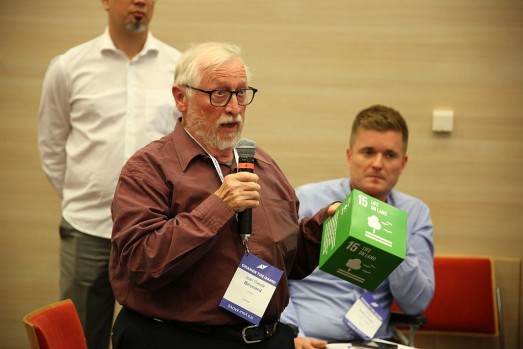 Next year the International Sport and Culture Association (ISCA) will celebrate 25 years of being a global umbrella for grassroots sport organisations. One of our founding members is UFOLEP, and Jean Claude Besnard was at ISCA's founding meeting in 1995. He celebrated his 75th birthday at the ISCA General Assembly in Budapest this October, and Graham C. Lim from the National Press Club-Philippines, who was there to see the Basketball Association of the Philippines being adopted as a brand new ISCA member, took the opportunity to capture a portrait of one of a representative of one of ISCA's oldest members.
One of the oldest members of the International Sport and Culture Association is still around at age 75 and counting. A renowned and hardworking personality from ISCA's network, Jean Claude Besnard (France), turned 75 on 19 October, a date that coincided with the staging of ISCA's General Assembly in Budapest, Hungary.
ISCA was established in 1995 as a global platform open to any organisation working within the field of sport for all, recreational sports and physical activity. The umbrella organisation started with 15 members and, after adopting 30 new members in Hungary, this number now stands at 261 diverse members from around the world.
Prior to the ISCA General Assembly, the three-day MOVE Congress (16-18 October) featured speeches from international personalities and special guests at Budapest Congress Centre. Held once every two years, the venue of the next ISCA MOVE Congress and its General Assembly in 2021 will be determined early next year.
The MOVE Congress is a part of ISCA's worldwide activities and campaigns that challenge grassroots sports activities to be more in tune with current times. The world is fast moving and the game is ever changing no matter where we are working.
Physical education and traditional grassroots sports programmes are being disrupted every day by the new trends and technologies, and it's up to all of us to remain active and adjust to the changes.
During the General Assembly, Danish-born ISCA President Mogens Kirkeby proudly announced the presence of Besnard, who has been in attendance since the 1st ISCA General Assembly held in Copenhagen, Denmark in February 1995.
Besnard has been involved in sport-for-all activities in his native country as a consultant to a young Besnard when the latter first joined the French Union for Citizens' Physical Education (UFOLEP) in 1968.
At the time, Besnard was only 24. Over the last 27 years, he has been an active member of the Executive Committee of the UFOLEP and, to date, he remains as a UFOLEP adviser.
Besnard's advice to the current generation is to put more emphasis on education in general, and to give importance to issues involving the equality of people in all aspects of life, and also the accessibility to sports and cultural activities for all.
Until now, ISCA President Kirkeby and his Secretary General, Jacob Schouenborg, also from Denmark, have devoted much of their time to spreading ISCA's aims and visions to representatives of the European Union and European Parliament, World Health Organisation (WHO) and UNESCO, and many other prominent organisations around the globe.
At its General Assembly in Budapest, ISCA warmly welcomed as a new member the Basketball Association of the Philippines (BAP) Inc. I attended the ISCA General Assembly in Budapest to receive the official confirmation of BAP Inc. as an official ISCA member.
By Graham C. Lim (National Press Club-Philippines since 1989; this article is edited from the original version 'Jean Claude Besnard: Aging like vintage wine')
Pictured below: Graham C. Lim with Jean Claude Besnard at the ISCA General Assembly held at the Budapest Congress Centre.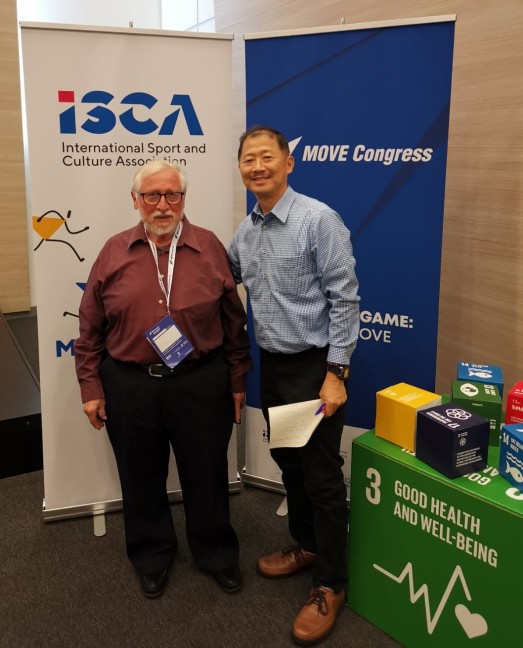 Posted on 21/11/2019 by Graham C. Lim, National Press Club-Philippines