New multi-storey Sesc Guarulhos facility opens in the State of São Paulo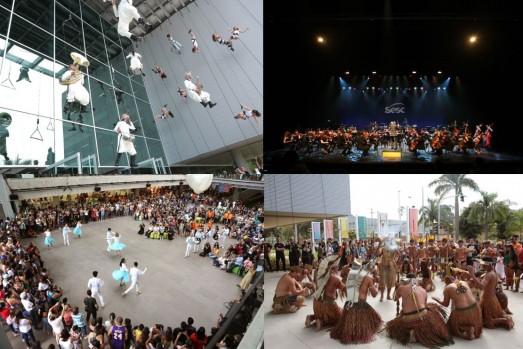 In March ISCA member Sesc was awarded an ArchDaily Building of the Year Award in the Public Architecture category for its innovative headquarters Sesc 24 de Maio. On 11 and 12 May, Sesc inaugurated a brand new culture and sport centre: Sesc Guarulhos. The facilities were opened in second largest city in São Paulo State, gathering 24,400 people from the local area, who were invited to participate in activities at the new centre.
Sesc Guarulhos has 34 thousand m² of built up area, a building with three floors that incorporate a theatre, a music centre, an exhibition area, a centre of environmental education, an aquatic centre with indoor and outdoor pools, a multi-sports gymnasium, a synthetic grass field, a multi-sports court, gym rooms, technology and arts spaces, a dental clinic, a library and a space for children to play, among other spaces.
This new cultural and sports centre is expected to welcome 4000 users per day, with its facilities being open to people of all ages from the local community.
"The opening of a Sesc centre in Guarulhos increases our capacity to promote our facilities to workers from commerce, the services and tourism sectors, and the public in general, giving them the opportunity to enjoy many programmes and activities that provide learning, networking and dialogue. The delivery of this new facility to the public reaffirms the institution's commitment to promoting collective wellbeing in the communities in which it operates. It also enables everyone to access the full experience of their city and the region's dynamic cultural scene," Danilo Santos de Miranda, the Regional Director of Sesc São Paulo, says.
Sesc's network includes 44 centres in the State of São Paulo, most of them cultural and sports centres. Sesc also provides activities on social tourism, health, performing and visual arts, environmental education and special programmes for children and seniors. It is also the pioneer of an initiative to help reduce hunger and food waste, called "Mesa Brasil Sesc".