ISCA members' sport for all festivals mark 100+ years of history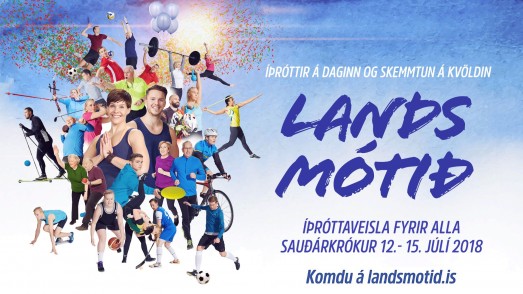 By ISCA President Mogens Kirkeby (main graphic UMFI's National Festival poster).
As the pioneers who founded ISCA back in 1995 had their first meeting in connection to the biggest sport for all festival in Denmark (DGI's Landsstævne 1994), you could say that sport for all festivals are ingrained in ISCA's DNA. Many of our founding members held these festivals in their countries and still do – in fact some have done so for over 100 years.
This month I had the pleasure of visiting one of our member organisations Czech SOKOL's national SLET festival in Prague. The SLET festival is held in Prague every six years, the first time in 1882, but due to various politically conditions, this was "only" SLET festival number 16. About 12,000 participants from the Czech Republic, as well many other countries, participated in the week-long festival in Prague.
Czech SOKOL is one of the oldest sports organisations in Europe. It dates back to 1862, when it originated in the Czech region of Austria-Hungary. The civil society organisation focused on the body and mind, was inspired by the founder of the German ISCA member Deutscher Tuner-Bund.
In various periods, SOKOL was considered to be a potential threat to the rulers and the Czech SOKOL has thus been banned for three periods. In these periods some Czech citizens also left their country and some brought the ideas of the Czech SOKOL movement to their new country. This means that the SOKOL movement and history exists in quite a few countries. In 1968, the SOKOL had a brief return but was banned again by the Soviet Union, and only after the Velvet Revolution in 1989, SOKOL appeared again and started to re-organise the organisation.
SLET Gala Show 2018
The SOKOL SLET festival features performances in open squares and stadiums. There are sport competitions in various locations and, as we know from other festivals, the SOKOL also arranged a SLET Gala evening which took place at the O2 Arena in Prague. 15,000 spectators saw a fascinating show featuring large selection of their many activities to a soundtrack of a rock band and an entire symphony orchestra. If you want to see some of the TV broadcast it can be found here.
Icelandic UMFI's national festival 2018
In July another ISCA member also held its national festival. The 2500 inhabitants of a town called Saudarkrokur in Iceland hosted the UMFI 2018 festival. UMFI is the oldest sport and youth organisation in Iceland. It dates back to 1908 and it has carried the tradition of festival since. UMFI actually has three national festivals, an annual Youth Festival in August, a Senior Festival and a National Festival (Landsmoete) for adult participants every four years. The national festival is a combination of competitions and a lot of "come and try" events where they introduce new activities.
With a host city of 2500 citizens and a total population of 350,000 people in the country, this is naturally a festival of smaller dimensions than, for example, the SLET Festival in Prague – BUT it carries the same idea and is an important manifestation of the organisation and its work. UMFI is one of the founding members of ISCA and has always been ready to contribute and participate.
Both Czech Republic and Iceland (and other countries) also celebrate their 100 year anniversaries exactly this year. So in both cases the sport organisations are older than the state.
Read more about the Bike for Europe event that will visit the Trees of Liberty as part of the Czech 100 years of independence celebrations.
Posted on 16/07/2018 by ISCA President Mogens Kirkeby