500,000 Bulgarians will choose the stairs on 25 April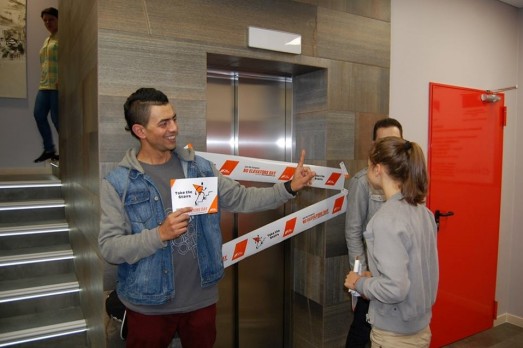 For the fourth year, No Elevators Day will be coordinated in Bulgaria by ISCA member BG Be Active, bringing together institutions, companies, media and public figures in Bulgaria to raise public awareness of the importance of daily physical activity. Тhis year BG Be Active expects around 500,000 Bulgarians to join the initiative.
This year, the initiative is being supported by some of the largest universities in Bulgaria including the University of National and World Economy, Medical University Varna, Shumen University, Technical University in Plovdiv and Sofia, and Thracian University Stara Zagora. All of them will show the students that they have the power to act now with an easy way to add physical activity to their day.
Bulgaria is one of the countries whose citizens do not practice sport of physical activity regularly, although according to the recent Eurobarometer results, physical activity among Bulgarians is increasing.
Since it began coordinating the NowWeMOVE campaign, BG Be Active association has motivated nearly 1 million to find their move, thanks to partner support over the years, such as the Center for Human Resource Development, the Ministry of Health, the Bulgarian Association for People Management and active media participation, including the BSS Media Group, National TV, Investor Media Group, Sportal, Webground, Darik Radio, mobile application iLoveBulgaria and others.
Bulgarian No Elevators Day has also found new friends and partners in social media. For the first time, the mobile application iLoveBulgaria will support the campaign. Anyone who has uploaded a photo from one of tourist sites that contain stairs in the social network with #ямстълбизазакуска can play a game and win great prizes. The Platform "Top Forma" and nutritionist Ipokratis Papadimitrakos is also deciding to choose the stairs. They encourage everyone to share their actions with a video or photo.
The event found a lot of supporters in the business. One of the largest and most socially responsible companies in Bulgaria, like Mondoole, NN, Tellus, VM WARE, Doverie, Eli Lilly, Max Europe support the No elevators Day also in 2018. All of them will seal off elevators and escalators in office buildings on 25th and share the spirit of the day with all their employees and other companies in the same work space.
Find a No Elevators Day event in Bulgaria
By BG Be Active
Posted on 23/04/2018 by BG Be Active