European Fitness Badge a new measurement tool for physical activity trainers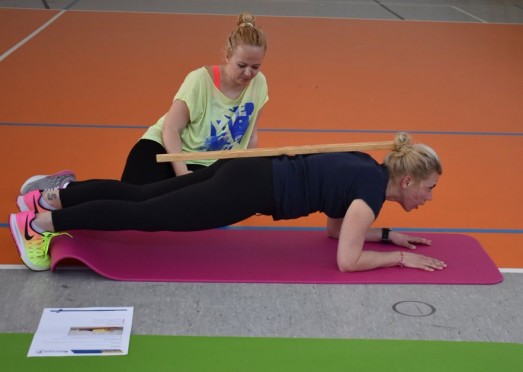 ISCA is a partner in the Germany Gymnastics Federation's (DTB) Erasmus+ supported European Fitness Badge project, which has now launched the tool for physical activity trainers.
If you are an instructor of any kind of physical training you will want to learn more about the new European Fitness Badge. You can use the badge to improve your knowledge about the fitness status of your group. You can give individualised advice to your clients. You can also increase the engagement of your group members in physical activity. The first level of the badge can also be used to motivate and convince inactive people to adopt a more active lifestyle.
The European Fitness Badge is a tool to measure fitness. It has three different levels: Basic, Advanced and Approved. ISCA's Laska Nenova demonstrates one of the basic level exercises in the picture above.
Every test is easy to set up according to your own equipment and facilities. It are easy to carry out the tests and they are designed to be fun. The tests have been developed by a professional team from all over Europe. The participant's ability to move is tested through strength, endurance, coordination and flexibility exercises. The test also focuses on factors such as posture and body composition.
The basic test is for inactive or senior citizens and is basically function-oriented, for example climbing the stairs to the third floor, standing on one leg and balancing on one leg.
The other two test profiles are performance-oriented, for example how many push-ups can the participant do in 40 seconds or how high can they jump and reach. All test items are evaluated according to age and gender specific references.
Whenever the test is executed you can easily enter all the test results into the European Fitness Badge database. All data is of course anonymous and you will receive a special code to access it. Afterwards you can either print or send by email a certificate and a feedback sheet with the outcome of the test. The point is to use this feedback to increase knowledge on how to improve physical health and to motivate and give personal counselling.
Since the European Fitness Badge has three levels, it is suitable for everyone. The aim is to encourage behaviour change in the direction of health enhancing exercise and physical activity. The aim of the badge is also to encourage exercise groups, teams and members of sports clubs to maintain their healthy lifestyle.
You can read more about the European Fitness Badge on our website, where you can also find support to implement the European Fitness Badge in your country.
I wish you the best of luck and please contact the organisation in your country for more details.
By the German Gymnastics Federation