Colombian city celebrates No Elevators Day 2017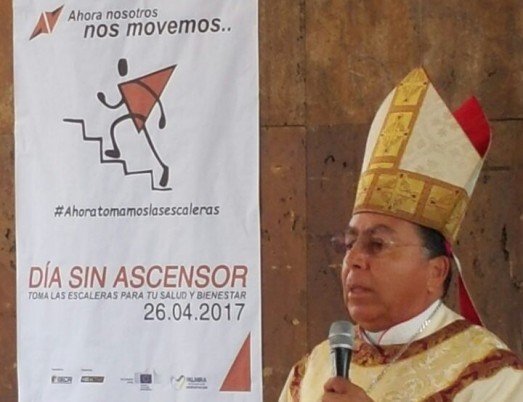 No Elevators Day stretched beyond Europe for the first time this year to Latin America, with the city of Palmira, in the Cauca Valley in Colombia jumping on board.
The organisation of the event was carried out by the Secretary for International Development and the Secretary of Human Resource Management, in collaboration with the ARL advisor, and was supported by the bank COMFENALCO. The Municipal Administration promoted the event through its institutional mail services, on the billboards of the secretaries, and distributed flyers to raise awareness within the public officers in order to promote healthier lifestyles.
To mark the occasion, the Archbishop of Palmira valley (pictured) went to the Roman Catholic Diocese of Palmira to support No Elevators Day. A big crowd came to see him, and everyone was very excited. During his speech, he explained the event, and encouraged and motivated people to take the stairs instead of the elevator for a healthier and happier lifestyle for all citizens.
The Municipal Administration of the city of Palmira invited all the employees to use the stairs. They work in an 8-floor building, and on each floor they prepared different physical activities where they invited people to be aware of the importance of being active. The online magazine specialising in women in sport in Latin America, Sported, also dedicated a full article to the No Elevators Day.
By Judith Solanas Sanchez and Liliana Ortiz De La Cruz, ISCA